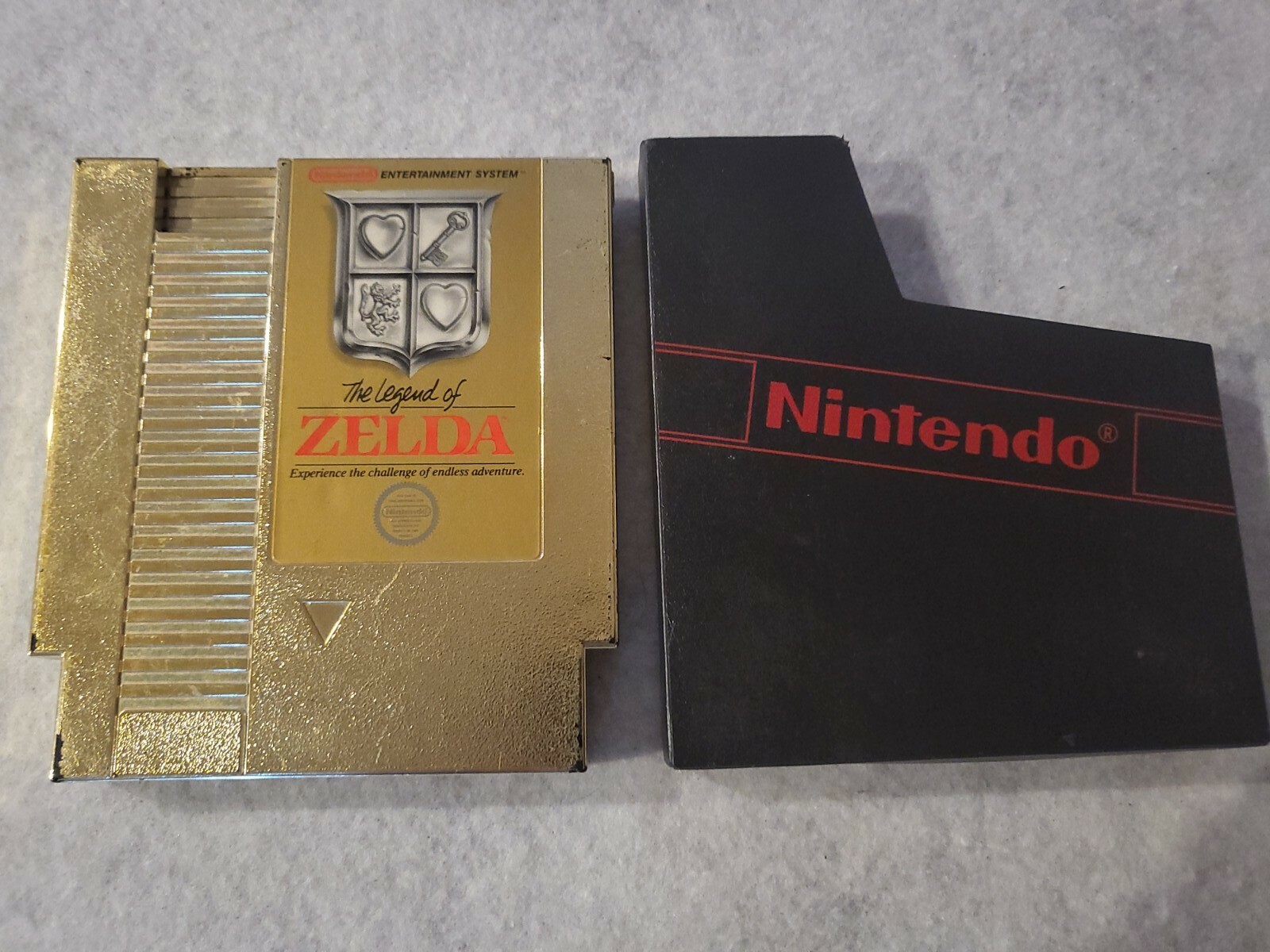 Price: 75.00 USD
Classic Nintendo Game:
The Legend of Zelda | Gold Cartridge Nintendo NES 5 screw – tested
Good. The Legend of Zelda – Nintendo NES Gold Cartridge with Slipcase.
This is an early gold 5 screw version, with a Round Nintendo logo and black text on back. RARE. This is a 5 screw release — early and RARE. Good overall example.
Listing includes cartridge and slipcase. Cartridge is tested and works. See pics for overall condition.
****
The Legend of Zelda is a high fantasy action-adventure video game franchise created by Japanese game designers Shigeru Miyamoto and Takashi Tezuka. It is primarily developed and published by Nintendo, although some portable installments and re-releases have been outsourced to Capcom, Vanpool, and Grezzo. The gameplay incorporates action-adventure and elements of action RPG games.
The series centers on the various incarnations of Link, a courageous young male Hylian, with pointy elf-like ears; and Princess Zelda, the mortal reincarnation of the goddess Hylia. Although his origins and backstory differ from game to game, Link is often given the task of rescuing the kingdom of Hyrule from Ganon, an evil warlord turned demon who is the principal antagonist of the series; however, other settings and antagonists have appeared in several games. The plots commonly involve the Triforce, a sacred relic left behind by goddesses that created Hyrule; Din, Farore and Nayru, representing the virtues of Courage, Wisdom and Power that when combined together are omnipotent.
Since the original Legend of Zelda was released in 1986, the series has expanded to include 19 entries on all of Nintendo's major game consoles, as well as a number of spin-offs. An American animated TV series based on the games aired in 1989 and individual manga adaptations commissioned by Nintendo have been produced in Japan since 1997. The Legend of Zelda is one of Nintendo's most prominent and successful franchises; several of its entries are considered to be among the greatest video games of all time.