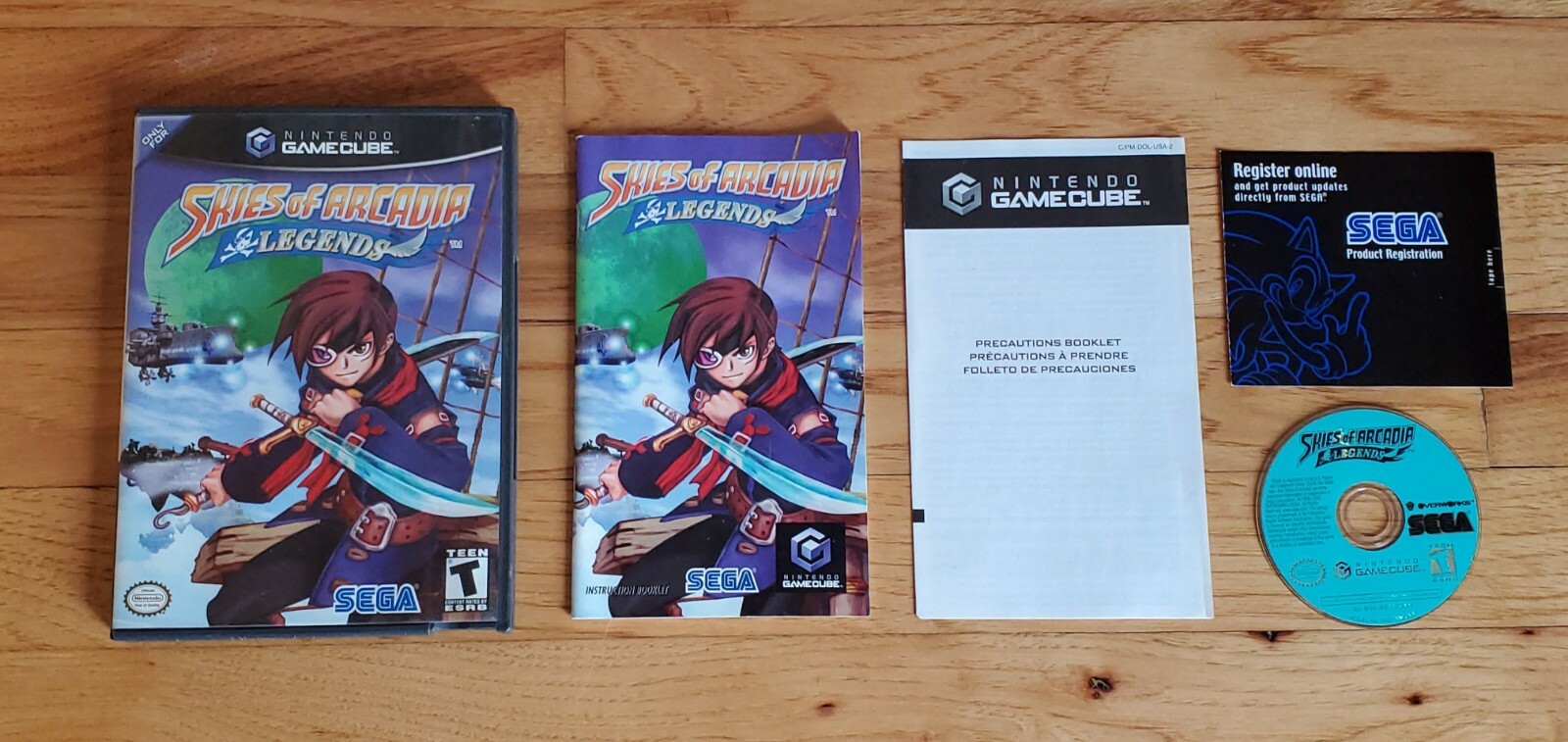 Price: 290.99 USD
Classic Nintendo Game:
Skies of Arcadia Legends Nintendo GameCube Wii Complete lot Manual CIB TESTED !!




Skies of Arcadia – Original GameCube/Wii GameComplete w/ manual, insert and case
Description:

 This auction is for the Original GameCube/Wii Video Game 

– Skies if Arcadia – Legends

. Included in the auction is the game, original manual, inserts and case. The game, case and manual are all in good shape. 

They are all completely free from rips, tears, damage or writing. The disc is in great shape and is free from any large scratches. There are some light marks, but nothing that would ever stop it from functioning correctly (SEE PHOTOS).

The instruction manual is in very good condition (SEE PHOTOS). It is completely free from any rips, tears, creases, bends or writing. All the pages are intact and fully attached. It is clean inside and out. The staples are strong and they are free from any rust or damage (SEE PHOTOS). The game case is also in great shape. It is completely free of any rental stickers or major damage. It opens and close tightly and correctly (SEE PHOTOS). It is an official GameCube Nintendo case.
Before listing the game was tested and works flawlessly! This is a great chance to add a rare game to your collection. Please take a look at my other video game auctions including many more rare Nintendo games.
If you have any questions don't hesitate to ask. I have posted numerous pictures so that the condition of this game is not left into question. Thanks for looking and happy bidding.
Shipping Information: Items are shipped USPS and shipping is free! Items are usually shipped out one to two business days after winning bid is placed. Sorry NO International shipping! If you have any questions regarding the auction please do not hesitate to ask. I strive to have perfect customer service so please feel free to ask questions. Good luck and happy bidding!
 Check out my many other Video Game auctions including other rare Nintendo games!!!!!!!! (529044)