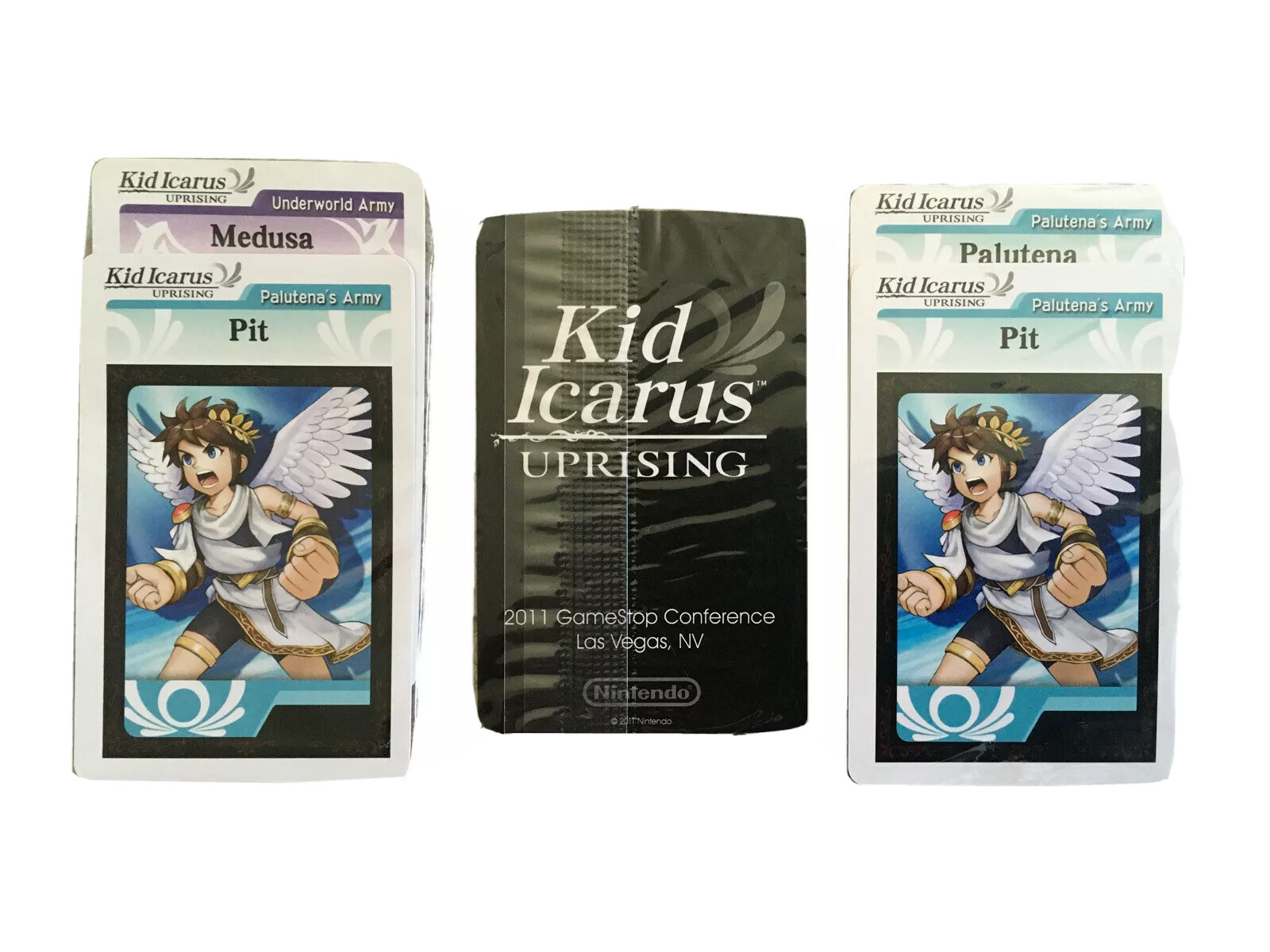 Price: 69.99 USD
Classic Nintendo Game:
RARE Nintendo 3-PACK Kid Icarus Uprising AR Cards GS PROMOTIONAL VARIANTS 2011
UPDATE: WE HAVE TWENTY-ONE (21X) OF THESE RARE GEMS !! WE WILL TEMPORARILY BE DROPPING THE PRICE AND BLOWING THEM OUT OF INVENTORY !!
LISTING IS FOR -ONE- SINGLE PACK (3-PACK) OF EARLY GAMESTOP MANAGER'S CONFERENCE 2011 VARIANT AR CARDS!! TO BE CLEAR, EACH PACK CONTAINS THREE CARDS — THE MAIN LISTING PHOTO WE MANEUVERED THE CARDS AROUND TO SHOW THE CONTENTS OF EACH PACK. WE DID NOT CHECK EVERY PACK THESE ARE JUST THE FIRST THREE THAT WE LOOKED AT!!!
EVEN WITH TWENTY-TWO OF THESE RARE AND EXCLUSIVE 3-PACKS AVAILABLE, PLEAES ALLOW YOUR FELLOW COLLECTORS TO STOCK UP ON THIS ONCE IN A LIFETIME OPPORTUNITY!! THESE WERE ONLY EVERY AVAILABLE TO GAMESTOP MANAGERS AT AN EMPLOYEE ONLY CONFERENCE IN 2011 ——-PRIOR TO RELEASE — !!! WOW!!
** THIS IS A SUPER RARE PROMOTIONAL THREE PACK OF KID ICARUS PRE-RELEASE CARDS FROM THE 2011 GAMESTOP CONFERENCE — THIS IS THE ONLY PLACE AND TIME THESE WERE EVER AVAILBLE IN HISTORY **
** THE SINGLE, AND 2-PACKS COME UP OCCASIONALLY BUT RARELY IF EVER THE COVETED 2011 GAMESTOP MANAGERS 3-PACK!! WE HAVE DONE OUR BEST TO SHOW THE EXACT CARDS AVAILABLE, AND A LOT OF THESE CARDS HAD TYPOS WHICH MADE THEM EVEN MORE RARE!!! **
DON'T MISS OUT ON THESE RARE GEMS 💎
Official promotional-only Kid Icarus: Uprising AR Cards Produced EXCLUSIVELY for the 2011 GameStop Conference!!
This pack features HYPER RARE VARIANTS OF:
PIT — PALUTENA — MEDUSA
Featuring artwork and logos from the original, beta version of the game!! THESE cards are VERY different from the Pit AR Cards released to the general public as pre-order items when the game released later in the year in 2011 — YES THAT'S RIGHT — these were distributed BEFORE the game's release date, only once at the GameStop Manager's trade conference for managers. WOWZERZ WHAT A RARE FIND!! SEND AN OFFER OR BUY IT NOW!!
THESE ARE BRAND NEW SEALED
FREE SHIPPING TO ALL U.S. ADDRESSES
FAST & FREE SHIPPING AS ALWAYS — CHECK OUT OUR OTHER AMAZING LISTINGS!!