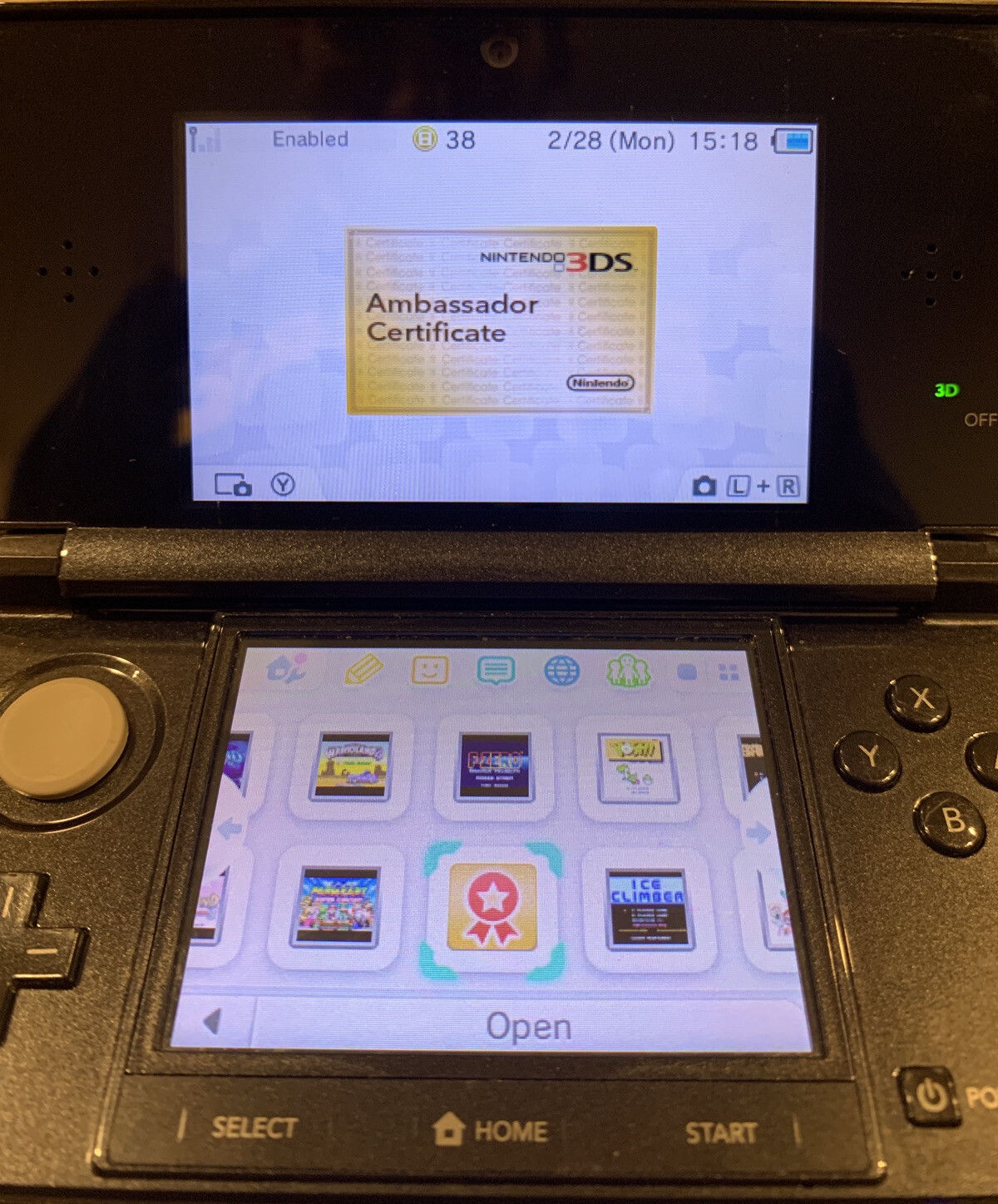 Price: 650.00 USD
Classic Nintendo Game:
RARE Ambassador Edition Nintendo 3DS Launch Handheld System Cosmo Black 35 Games
Nintendo 3DS Cosmos Black Launch Edition with LEGIT Ambassador Certificate
Includes a charger and the original stylus
Works fantastic
Once you purchase the system, plz don't format or erase any games. I'm not sure if they are redownloadable.
35 Retro Classic Games Installed on it :
– Pokémon Crystal 2001
– Metroid 2 Return of Samus 1991
– Punch Out ft Mr. Dream 1990
– Rainbow Snake
– Shovel Knight
– Thorium Wars Attack of The Sky Fighter
– Kirby Fighters Deluxe
– Aeterno Blade
– Azure Striker Gun Volt
– Pushmo
– super mario land 2 6 golden coins 1992
– 3D classics Kid Icarus
– Zelda The Minish Cap
– Fire Emblem The Sacred Stones
– Mario vs Donkey Kong
– Kirby & The Amazing Mirror
– WarioWare, Inc
– Metroid Fusion
– Yoshi's Island : Super Mario Advance 3
– Wario Land 4
– Mario Kart : Super Circuit
– F-Zero Maximum Velocity
– Yoshi
– Ice Climber
– Balloon Fight
NES Open Tournament Golf
Tomodachi Life (Demo Available)
Kirby Planet Robobot (Demo Available)
Zelda : Four Swords Anniversary Edition
Wrecking Crew
The Legend of Zelda
Donkey Kong Jr
Zelda 2 The Adventure of Link
Super Mario Bros 1985
Metroid 1987
All these games run perfectly fine and don't require an internet connection or a game cartridge.
Condition is used preowned but overall in great working clean condition