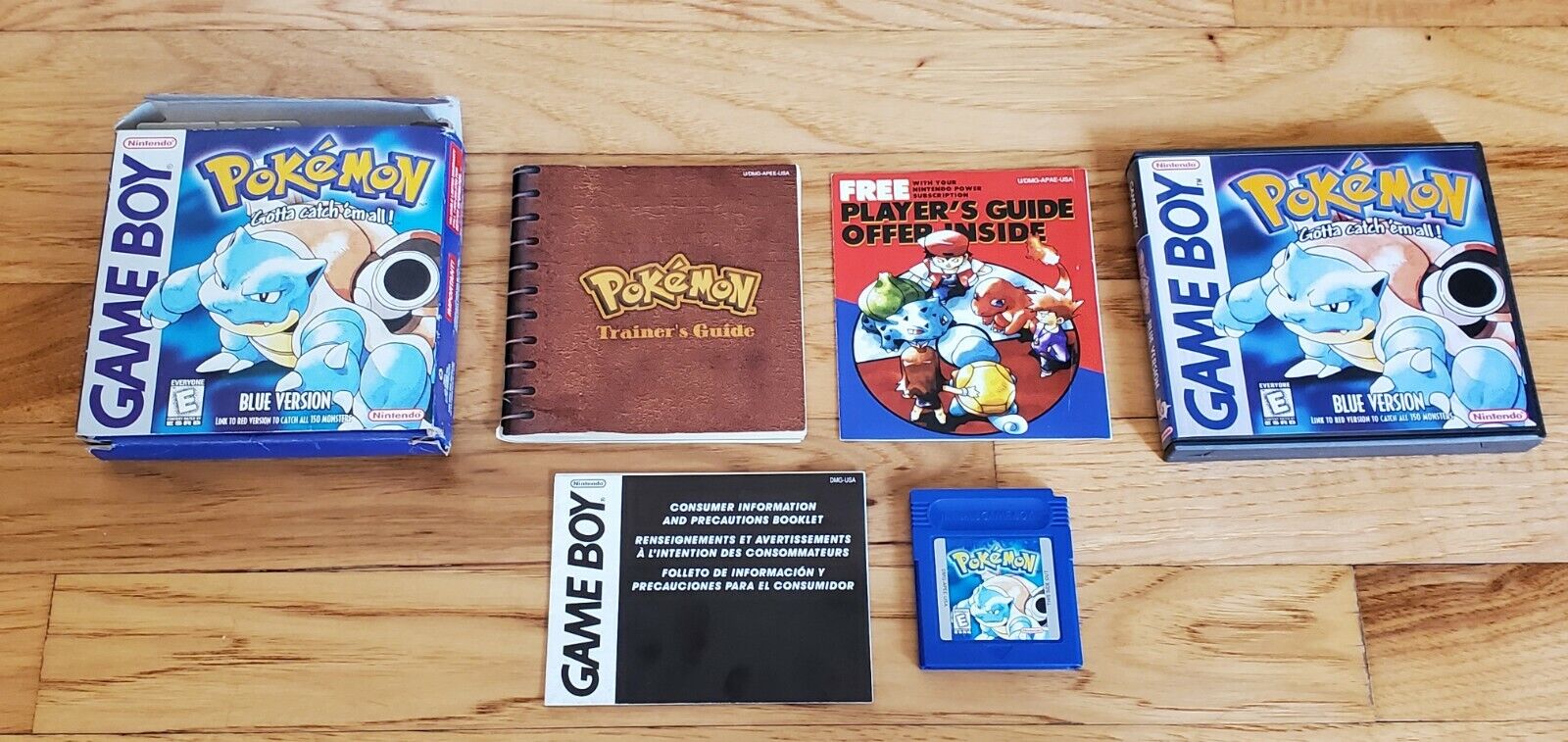 Price: 419.99 USD
Classic Nintendo Game:
Pokemon Blue Version Game Boy GBA Advance Color Complete Original Box Manual CIB




Pokemon Blue Version – Nintendo Game Boy Cartridge with box, manual and inserts
Description:
 This auction is for the Original Nintendo Game Boy Video Game Cartridge 
– Pokemon Blue Version.
 Auction includes game,
original
 box, manual & paper inserts. 
This game is 100% authentic and not some cheap copy like you see here on eBay. I have supplied PCB board photos. A new battery has been installed! The Game Boy handheld system is 
NOT 
included. It just shows the game has been tested. Also included is a hard plastic display case to store the game in separately from the original box!
This game is in good shape with no tears, rips, peeling, stickers or writing on the cartridge body (SEE PHOTOS). The game cartridge body is completely free from any writing, discoloration, cracks, breaks or rental stickers. The front label is bright, colorful and fully attached. It completely free from any rips, tears, peeling, writing or stickers (SEE PHOTOS).

The box itself is also in good shape but does have wear. (SEE PHOTOS). It has some bends and creases (SEE PHOTOS). The overall structure is good though and it is free from significant crushing (SEE PHOTOS)
. It does not have any rips or tears on it. The lids and all four cardboard tabs under the lids are all fully attached and free from any rips or tears (SEE PHOTOS).
The manual and inserts are all in good shape (SEE PHOTOS). They are completely intact and free from writing or ink pen marks. (SEE PHOTOS). The manual is in good shape, but does have some light wear. There are no large tears or rips in/on it though. All the pages are completely intact and fully attached (SEE PHOTOS). The staples are strong and free from any rust or damage.
Before listing the game was tested and works flawlessly! The save function works! This is a great chance to add a rare game to your collection. Please take a look at my other video game auctions including many more rare Super Nintendo games.
If you have any questions don't hesitate to ask. I have posted numerous pictures so that the condition of this game is not left into question. Thanks for looking and happy bidding.
Shipping Information: Items are shipped USPS and shipping is free! Items are usually shipped out one to two business days after winning bid is placed. Sorry NO International shipping! If you have any questions regarding the auction please do not hesitate to ask. I strive to have perfect customer service so please feel free to ask questions. Good luck and happy bidding!
 Check out my many other Video Game auctions including other rare Nintendo games!!!!!!!! (641709, 207011 & 823093)