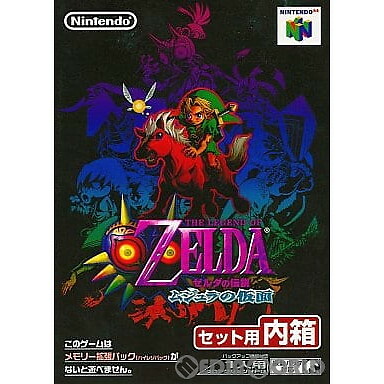 Price: 69.99 USD
Classic Nintendo Game:
Nintendo64 [N64] The Mask of the Legend Zelda (Game Cassette ONLY) (Memory Expa



Description
* Title:
Zelda
legendary Masked Majora (Game Cassette Single) (Mandalized Memory)
* Machine:
Nintendo 64
Software (Nintendo64Game)
* Release Date: 2000/04/27
* Manufacturer Part number : NUS-P-NZSJ
* Jan /EAN: 4902370504644
* Maker:
Nintendo
* Genre: 3D Action RPG
* Comments:
"You are still masked I do not know the fear.
* World of the new "Zelda"
Video, and the innovative story show exquisite matching
The stage is a world after several months since active in the previous work "Ocarina". A new Zelda that can enjoy the first time, as well as the player who plays the first work story, and it is "Mujra's Mask".
How do you spend 3 days of volume?
"Solve mystery to stop the fall of the moon in 3 days" — This is the best proposition of this work. Various experiences have been experienced in the third day, and the player must decide for your own intention to spend 3 days. It is waiting for three days with volumes that can not be considered normally, such as mystery and adventure and battle.
A "Mask"
"Masked"
Familiar "Goron", "Zola" and "Deknut" of the Links. By wearing "Masks", the ability is covered by the "Mask", the ability is expanded to the link, and the adventure is expanded by making use of the unique strength of the race.
Various instruments change destiny
That [Ocarina at time] appeared as an important item. In addition, musical instruments other than Ocarina will also be added, and the melody played is the key of destiny.
Epona, Yabusame, Rotating / / / A sense of exhilarating again
Horse riding and bow arrows that were also a topic in the previous work. This time these can be made of children's links and you can enjoy the powered up action.
Leave the kindness as it is
As the previous work, in addition to the excellent operability of the target system with the Z button, the buddy fairy inherits the system to help adventure. Support smooth game progress.
* Memory expansion pack is required to play this game.
"The Masked Mujura of Zelda" can not play without a Memory Extension Pack (Hilazo Pack).
* Terms of rights: © 2000 Nintendo
Please be sure to check * Questionnaire postcard, Obi, flyer, and bonus not listed on page may be missing. * There is no warranty for DL ​â‹code and serial number. * Disk cards may have a scratch that does not interfere with use.
(*The description was translated by Google Translator Automatically.
So, the item description below looks sometimes strange. Ask us if it doesn't make sense.)
PLEASE NOTE:
We're NOT responsible if this game software works in your video game console. This game was originally sold for users in Japan.
Be sure to check for yourself if your game console really matches this game. We provide the matching chart below for your information, but it is not 100% certain.
Payment
We only accept PayPal payments.
Shipping
We offer Free Shipping Worldwide!!
Shipping Duration
Shipping Method
Asia
North America
Central America
Middle East
AU, NZ
Europe
Russia
Sounth America
Africa
Air Parcel Post
3 – 7 days
5 – 12 days
4 – 8 days
6 – 8 days
We will ship worldwide mainly by Air Parcel Post that is an international mailing service by Japan Post.
We will ship out your item within 2-5 business days after your payment.
We can ship ONLY to your registered Paypal address.
(*Because it is impossible to sharply distinguish a buyer from a fraud which is rampant recently, We'll basically cancel your order if there is no street address in your registered address in Paypal. Please confirm it before your purchase. )
Terms of Sale (*Please read with special attention)
About RETURN
Return can be accepted only when the condition, function, authenticity or design of the item you received is objectively different from its images, description on the item page on eBay and our message on emails.
Please don't ASSUME the detail of the item that are not described by the description or the photos without our confirmation with emails. (For example, a buyer thought the item color was gold even the color on the photo was silver. by convincing the photos were monochrome.)
**We have no intention at all not to accept your return when the item has a defect or is different from what you see and are described here. The reason we write this in detail is that there are many buyers trying to return items that they clearly ordered fully matching the description and the photos. We will pay to get this item and spend costs to deliver an item, FOR YOU. Please take responsibility for your order as well. We're a so small company that we can't run our business with unfair returns.
And, we can only accept your return within 30 days after you receive the item.
Please make sure to contact us first if you want to return it.
It is our responsibility for the return shipping cost as far as the item has a difference from the description.
The item should be returned in the original condition with its accessories just as you received.
No returns acceptable for a product that shows any evidences of your use.
No UNDERVALUE
We don't undervalue. Please understand before you purchase it.
About STOCK
We are constantly checking our inventory carefully, but sometime we may find there is no actual stock after accepting your order because we sell the item in stores in Japan.
In the absence of the stock, we would introduce the substitute if possible, but if you do not like it, please kindly accept beforehand that we would cancel your order.
About Us
We are a pawn shop in Kyoto.
We're primarily a retailer of used watches in connection to other pawn shops in Japan.
Packing items carefully, we will try to ship products promptly.
Items delivered by Standard shipping (Air Parcel Post) seem delayed while delivering from time to time. Even in that case, we will respond with responsibility, so please feel free to email us.
Please don't Open Cases easily on eBay before emailing us. it often makes a problem more complicating because of eBay system, and you just don't have to do so at all.
Please Note about Import Duties & TAX etc.:
Import duties, taxes and charges are NOT included in the item price or shipping charges. These charges are YOUR responsibility.
Please check with your country's customs office to find what additional costs will be prior to bidding/buying.
These charges are normally collected by the delivering freight (shipping) company or when you pick the item up – do not confuse them for additional shipping charges.
Thank you for reading!!