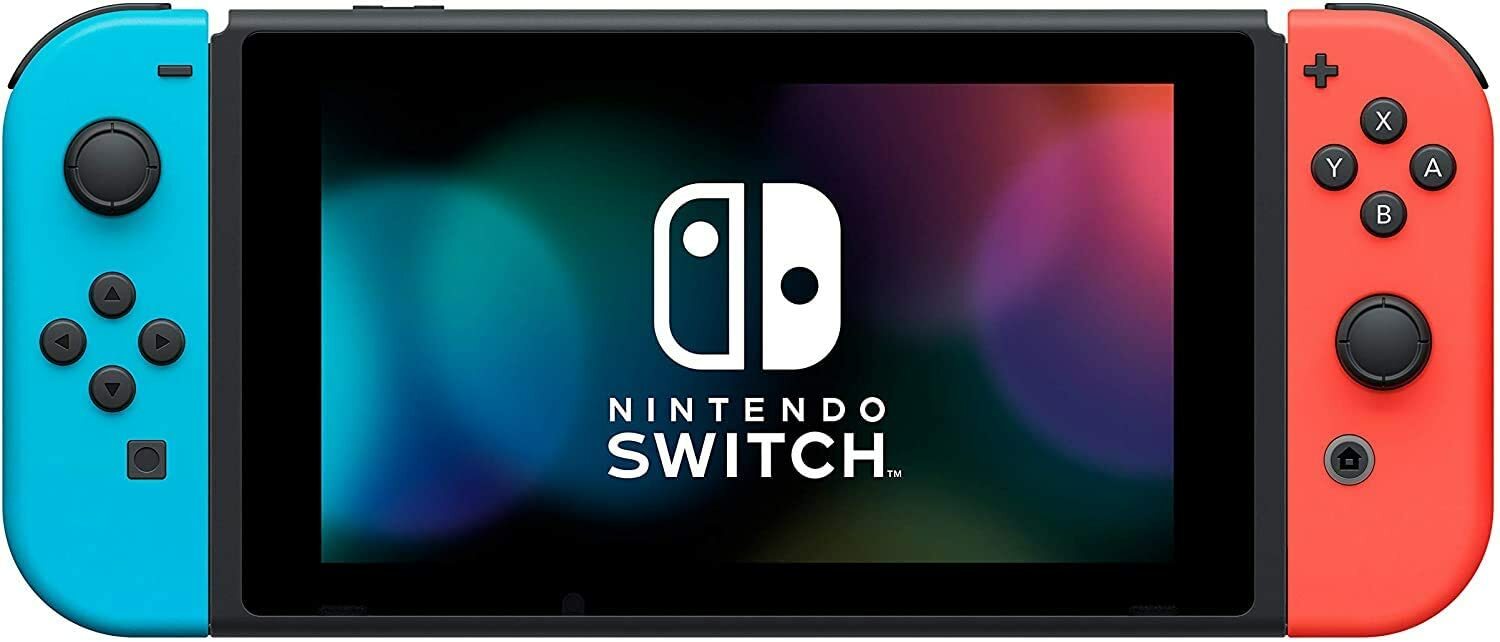 Price: 429.99 USD
Classic Nintendo Game:
Nintendo Switch Neon Blue&Red Joy-Con +12 Month Membership +Carrying Case +Acces




Nintendo
Switch Neon Blue & Red Joy-Con + 12 Month Membership + Carrying Case
Description
Product Description
The
Nintendo Switch 32GB game system goes where you go. Take the handheld gray
console on the road, or connect the portable Nintendo system to your television
for traditional at-home play. This hybrid Nintendo console features a mini
controller system known as Joy Controllers. With this version, you get the
detachable controllers in fun, bright colors. There is a neon red Joy
Controller and a neon blue Joy Controller in this set. The main component of
the Nintendo Switch system is the handheld 6.2-inch tablet with LCD screen. 
Hard Drive


Ports

1x HTMI
2x USB 
1x 3.5mm Audio 

Included

HDMI Cable(s) Included 
Neon Blue Edition Carrying Case, and a 12-Month Individual Membership for Nintendo Switch Online
1x Mazepoly Cleaning Cloth
1x Mazepoly 2-in-1 Stylus Pen


1x Mazepoly 32GB Memory Card with Adapter


4x Cat Claw Design Thumb Grip Caps (Random Colors)
Terms of Sale
We do our best to ensure each and every product we sell is free of problems or issues. If you were to have any questions or concerns we are here to help. We offer FREE Tech Support Monday-Friday from 9:00am-5:00pm PST. If we decide the best option is to replace or fix your product we will issue a "Return Merchandise Authorization" which is required on any return. If you do not want a repair or exchange we will offer a refund only within the first 30 days of receipt. 
Shipping & Fees
Standard Shipping is FREE: This option is offered to the 48 contiguous states via FedEx or USPS delivery. Your tracking number will be sent to your eBay registered email address 24-48 business hours after PayPal payment has cleared with a confirmed shipping address. We do not ship to P.O. Boxes.
Return Policy
Ehexa Tech allows returns of up to 30 days after your item has been delivered. Please note all returns must be in original packaging and have an RMA (Return Merchandise Authorization) number issued by Ehexa Tech. To get RMA number please contact us via eBay messaging service. Returns without RMA are NOT acceptable nor refundable. For any return, please allow 3-5 business days for us to process your return/refund. 
Contact Us
Need Help?
Please send ebay message to us. We will reply you with 24 hours.