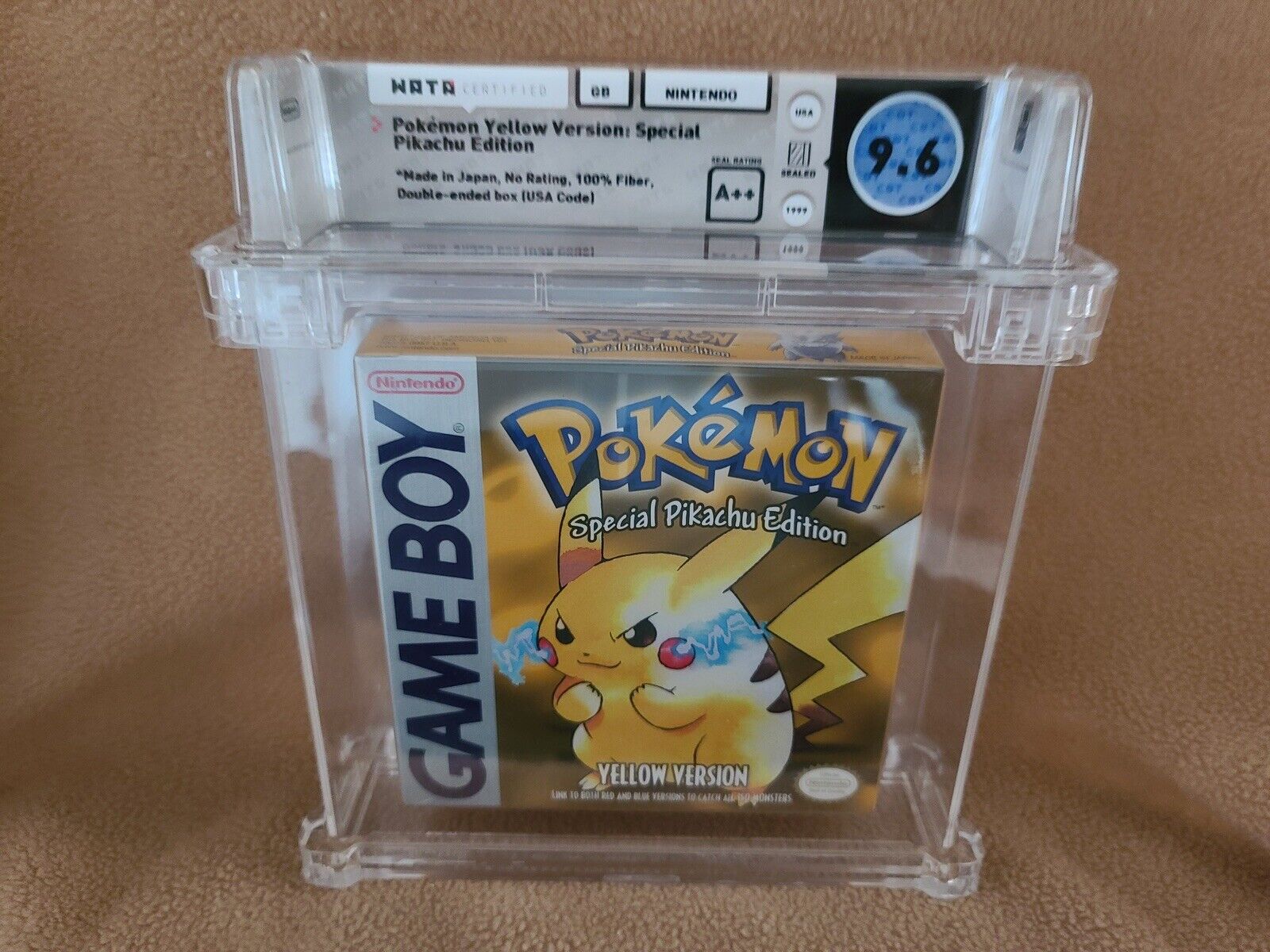 Price: 46,898.48 USD
Classic Nintendo Game:
Nintendo Pokémon Yellow Version Pikachu , No ESRB Logo, Early Run WATA 9.6 A++🔥
                         Nintendo Gameboy Pokémon Pikachu Yellow Version
You are looking at one of the most highly rated WATA Nintendo Gameboy Pokémon Pickachu Yellow Version, No ESRB Rating examples out there. This is a 9.6 A++ with a no ESRB rating Pokemon Yellow Special Edition version. This game was sent in to Wata in August and received back within the last week. 
This is one special game with a fantastic story of how it was acquired. Twenty-two years ago, while checking out a local yard sale doing my weekly sourcing trips, I happen to stumble upon a small yard sell and the seller had multiple video games laid out on the table. One of which included this Pokemon Pickachu Yellow Edition. At the time, I was buying it for my son and wasn't even looking at the quality of the way this was sealed or boxed. I paid $1.00 for this game and $1.00 for the blue version. I came home with a those and other games I had bought and gave to my son. As he was in his middle teenager years he advised me that he was losing interest in Pokémon games and wasn't sure if he would play them. I decided to put them away and basically forgot about them.
It wasn't until early in August of this year that my nephew happen to tell me he was getting into acquiring graded video games and asked me if I had any sealed video games. I told him I thought I did but didn't know the titles off hand. I went home and looked where everything was and located the game. I sent him the picture and he immediately called me yelling excitedly  "Do you know what you have" I was stunned and he advised me to send it into Wata Games for grading.
Needless to say I was stunned when I received it back with this beautiful grade of 9.6 A++. Upon contacting Heritage Auctions I was advised that they have only ever auctioned off about 30 of these specific NO ESRB rating Pokemon Pickacu Yellow Gameboy games and none even came close to this grade! This truly is a unique piece showing off in all its glory a beautiful piece of front box art with no esrb logo interfering. Ive decided that offering it to the collectors on EBAY would be the best approach. 
This is an early production and it appears happened because they were in production when the esrb logos were changing from a pixelated look to a solid black border. During this transition in 1999, Nintendo decided to have a print run without the logo, making these even more desirable because you can actually see the way the box was intended to look without interruptions like an esrb logo.
I have the make an offer selection enabled for this auction but please do not send me offers that don't seem reasonable. It isn't often this great of a graded game comes up for sale. Also before purchase you must contact me via Ebay message so that I know you are a legit buyer due to the price of this auction. Possible delivery of the item can occur if auction sells for what I'm asking and its ok with the buyer. If you wish not to do that it will be shipped.
Any questions please feel free to ask. I have outstanding feedback and have been on Ebay for over 20 years. Buy from a trusted seller.