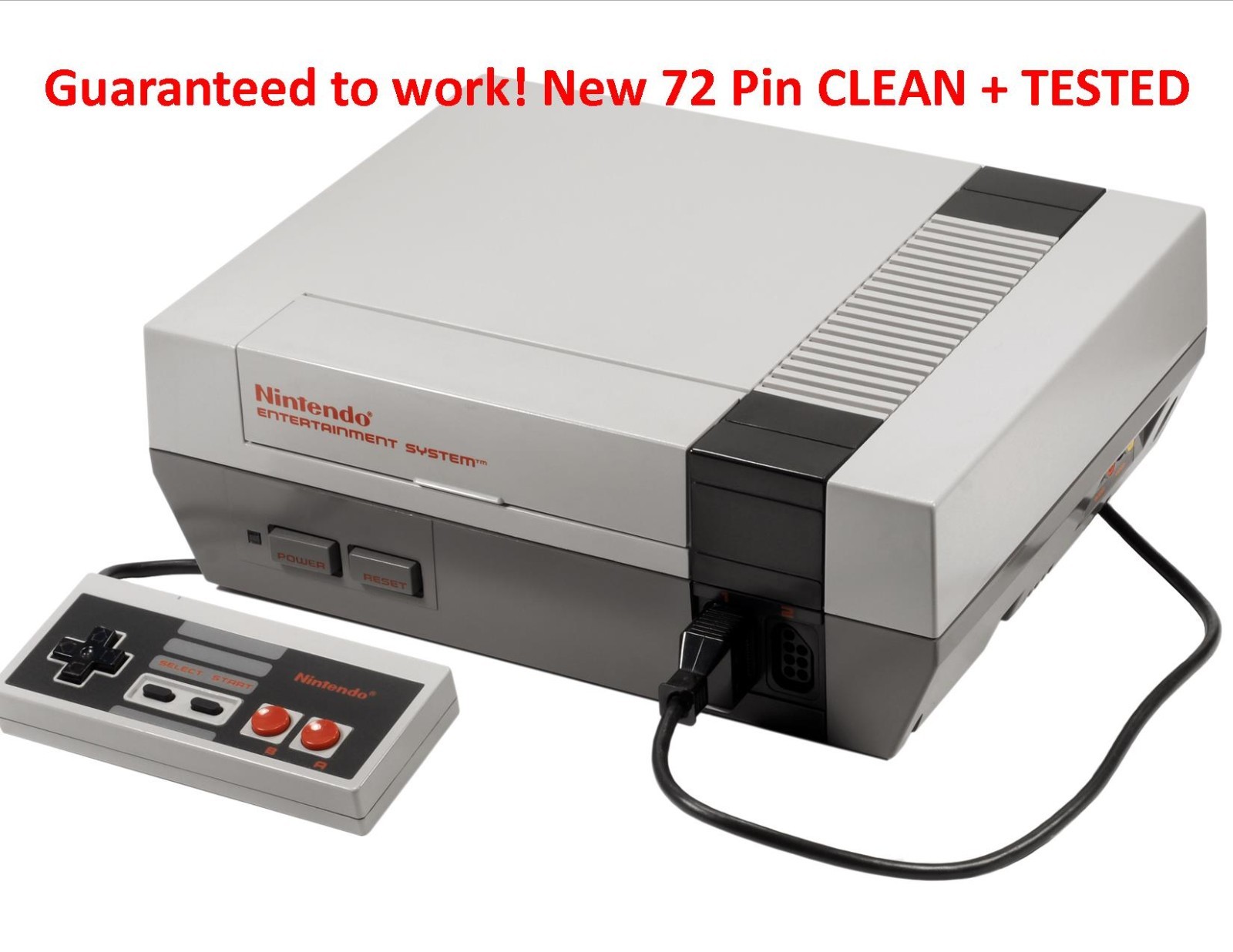 Price: 139.99 USD
Classic Nintendo Game:
Nintendo Original NES Console System All Hookups *TESTED* NEW 72 PIN Refurbished
Refurbished NES Console! 
  -Guaranteed to work-   
This NES NINTENDO console has been completely disassembled, cleaned and fixed to function like new. New 72 pin with disabled lock out chip.Tested and Working. 
Please note that this NES system and components have been discounted accordingly because they may have one or more cosmetic flaws such as chips, cracks, and discoloration which in no way will effect the gameplay. 
The picture of the system is a stock photo and is only used to reference the system you are purchasing.
Ready to play right out of the box. Here is what is included
• Clean, working and tested NES console. New 72 pin and disabled lock out chip, no more blinking light!
• 1 Original NES-oo4 Controller.
• All hook-ups. AC Adapter and TV Audio/Video cable. Easily connects to modern flat screen TV's.
Visit My eBay Store: Barry Good Games
New NES 72 Pin Connector:
NES blinking lights or blank screen are usually caused by bad connection between cartridge and console. Bad connection is caused by a worn out 72 Pin connector from inserting and removing game cartridges repeatedly over time. With a new 72 pin, games should load quicker assuming that game cartridges are cleaned. Some older game cartridges may need a little wiggle as the cartridge itself is worn and not because of the console.
Why Disabled Lockout Chip:
The lockout chip in the NES was included to prevent pirated games from running in the console. It is also the reason that you get the blinking screen and often malfunction between the console and game cartridges. If the console's lockout chip and the cartridge's lockout chip don't communicate, then the game won't play. Half the time, it's not because of dirty contacts. The games would run fine if it weren't for the lockout chips. Disabling it means a much higher success rate.
If you are having a problem with your purchase we offer a no hassle return policy within 30 days. You may return the item for a full refund or exchange. Please contact us directly to resolve any problems with your order at (209) 418-EBAY. Our office hours are M-F 8am-8pm (PST). We take pride in our customers being satisfied and we will do everything to personally work it out with you.