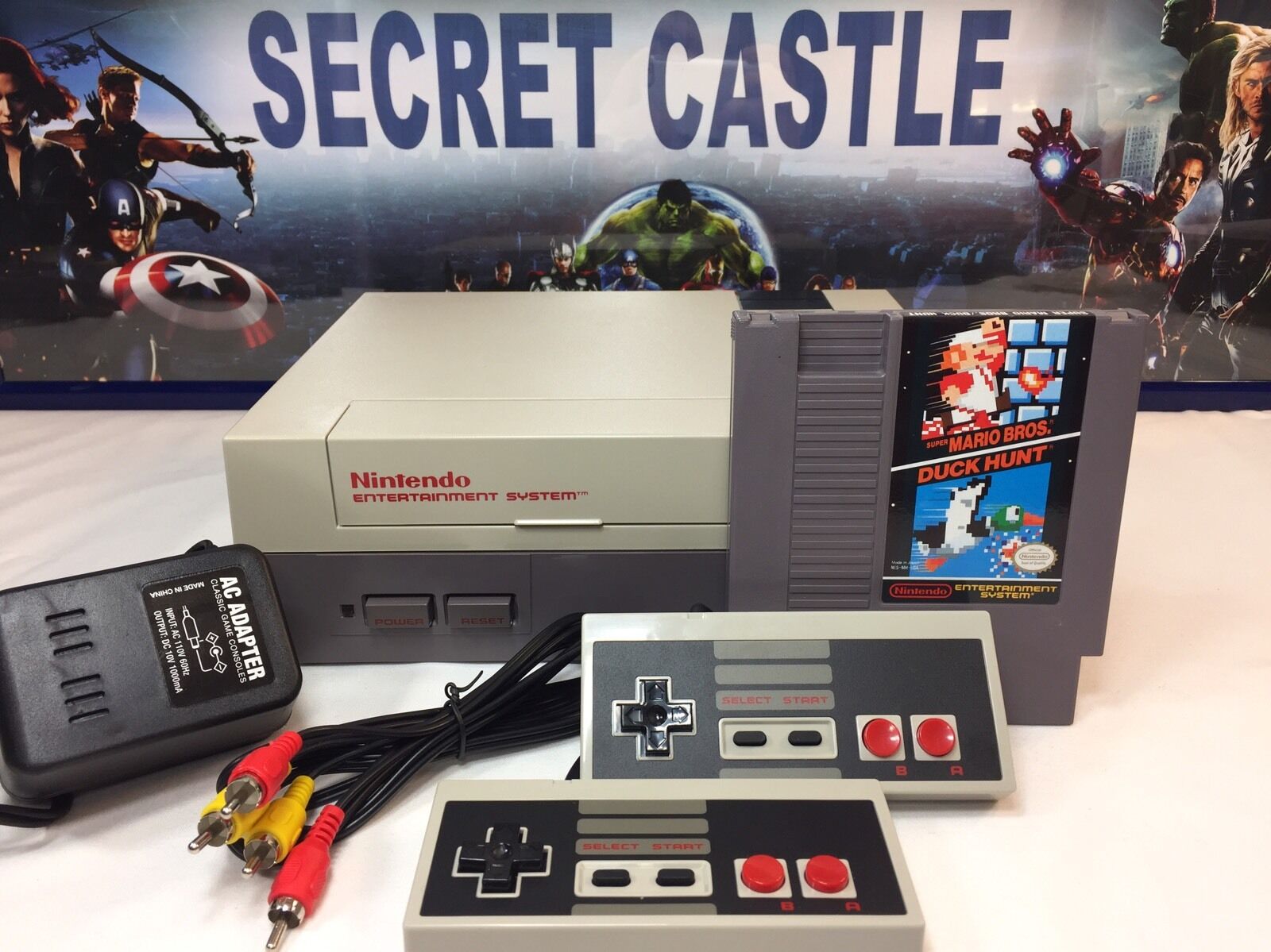 Price: 189.99 USD
Classic Nintendo Game:
Nintendo NES System Console W/ Super Mario Bros NEW 72 PIN WARRANTY FAST SHIPING
****Items purchase today by 3:30 PM CST will be in the mail same day. We are currently offering 4 shipping services including expedited shipping and overnight. ****
 NES Nintendo Console with Super Mario Bros / Duck Hunt Game
(Everything Pictured is Included)
All systems are guaranteed to work or your money back. The system will include an AC adapter (3rd party high quality,best on market), av video cable, two controllers with extra long cables (3rd party high quality, best on market.) .
and Super Mario Bros / Duck Hunt  Game 
All NES systems have a new 72 pin connector installed, Everything has been cleaned inside and out, the motherboard pins have been polished, all original wiring has been cleaned and tested for flaws, Super Mario Bros/Duck Hunt has also been opened and professionally cleaned (no rips in the label).
 All systems have a 60 day money back guarantee. (longest warranty on eBay)  
The Images are stock photos, your Nintendo console will be in similar cosmetic condition. Minor flaws may include mild surface scratches, light (never heavy or moderate) yellowing, faint discoloration, chips, nicks, or none at all.
   At anytime, feel free to message me if you would like to see the exact NES that you're buying
If you have any questions regarding TV compatibility, please feel free to message us and we will help determine which component cable is right for you.  This system comes with the pictured RF cable (Most televisions have this output available), however, we usually have other AV cables in stock that we can send in place should your TV require it. 
If you receive your Nintendo and need guidance on how to hook up the components to your TV (or have any other questions), feel free to message us anytime or you may also call us anytime and we will be glad to help! 
If for any reason you want the lockout chip disabled, send us a message before or shortly after purchase and we will disable that in your console. 
USAGE WARNINGS
PLEASE MAKE SURE ALL GAMES PUT INTO THE SYSTEM ARE CLEAN. PUTTING DIRTY GAMES INTO THE SYSTEM CAN MAKE THE CONTACTS ON THE NEW 72 PINS DIRTY. DIRTY PINS ARE THE CAUSE OF ALL THE HASSLE WHEN TRYING TO GET YOUR NES GAMES TO WORK.
LIKE SECRET CASTLE TOYS AND GAMES ON FACEBOOK!!!!
I ship quickly and safely. ONE BUSINESS DAY!
If you have any questions, please message me. 
Be sure to check out my other listings, I add new items Daily (most of them don't last long)
SUBSCRIBE TO SECRET CASTLE TOYS AND GAMES ON YOUTUBE!!!
And follow us on INSTAGRAM