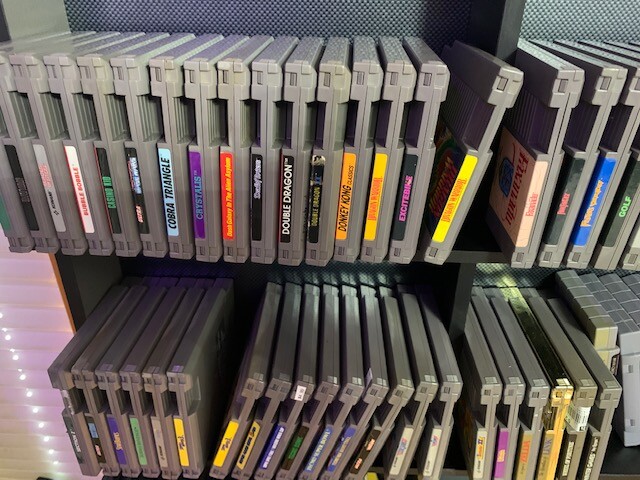 Price: 33.99 USD
Nintendo NES Games – Choose from over 300+ games in stock – PRO Cleaned – Jan 16
We aren't your ordinary NES game listing.  Please read the following:
Thanks for checking out my collection of NES games.  We LOVE NES games, so much so it is our only system we focus on.  When our games come in we clean them from the inside out and test them as if they were a part of our own collection.  Nintendo 72 pin readers degrade over time (read below about the quality of NES Games in 2022),  if you have issues with a particular game send me a message. All games ship within 24 hours of purchase(except on Sundays when the Post Office is closed).   Get additional discounts when you order 2, 3, or 4 games.
Finding the game you want.
We have updated our setup to match our fans feedback.  This is a variations listing there is a pull down above that lists all the games I have available and their prices.  We have organized it by our top sellers first, followed by new arrivals since our last major update, followed by sales items we have and lastly a list of the rest of our inventory in alphabetical order.  Manuals have been separated out as their own items so you can choose to buy both or each separately.  If a game is grayed out it is because it already sold.  I try to clean up this listing and add fresh inventory at least twice a week so be sure to add this to your watch list so you can find it for regular updates. If you are looking for a game not on the list message me and I will keep an eye out for it. 
Let's talk about the quality of NES games in 2022!

NES Games are at an all time high in popularity in 2022, and why not, they age better than wine and some of the greatest games of all time are on this console.  They also are 30+ year old games that have had 30 years of wear and tear and grime collected on them.  Some of these games come down right filthy.  This is why we put so much time and effort into cleaning these games up.  The scary thing about games is all it takes is one dirty game to rub off on the connector in your NES and your NES can have a hard time reading other games.  The bottom line is you don't want to stick any random game into your system, and there are a LOT of dirty NES games that get sold online with nothing more than a harmonica blow on them or a little windex rubbed on the pins. 
Professional Cleaning

At NES Games and More we take each cartridge apart carefully, verify that the correct board is in the game (no reproductions roms), and then polish every single one of the pins in the game as well as cleaning the inside of the plastic out(this is important as its a great place to both collect dirt and grime that ends up on the pins as well as transfer more grime inside your nintendo.  Then we carefully reassemble the cart and test it here on 2 different NES systems we have.  Make no mistake if you dig deep you will probably find cheaper prices on E-Bay, but you will be hard pressed to find many carts that have as much effort put into them as ours do, and this will allow your 30 year old NES console to work more consistently and last a lot longer before needing a new 72 pin connector installed.
Save Batteries
The average shelf life of the CR 2032 batteries inside many of the NES games that save is only 10 years! Now some NES games have seen shelf lives of 15 or even 20 years due to the lower power some of the games demand for saves and retaining memory, but the bottom line is many games are due or overdue to expire.  Since we already open games up to verify the board and clean thoroughly inside the cart, we also install new batteries on any games that have them, you will find these games under the pull down with the text [New Battery].  These aren't easy to install as they actually have to be unsoldered and resoldered to the circuit board, then we test them 24 hours apart to ensure saves are working perfectly.   As such these are pricier options and we will try to keep some non new battery options in the listings as well for those that want to gamble, but the new batteries are to protect your deep runs and give you the best experience possible!
Game Conditions
Any games with major label issues(20% or more of the label) are noted in the games pull down.  I try to provide high quality game but dings, bumps, slight peeling on the label, fading, scuffs, marker, and things of that nature may occur. If you need any more pictures for please send me a message.
Don't see what you are looking for?
Shoot me a message with a wish list, I am constantly perusing potential collections and can keep an eye out for a personal favorite of yours.

About me
I am an avid retro video game collector, who frequently purchases lots and then sells off any duplicates I have in a given lot.  As I love collecting video games I understand and value the care it takes to keep these games in top shape, and also the desire of you the consumer to have a great product.  From one collector to another I want to do what I can to make sure you are satisfied!
Cheers and thanks again for checking out my stock.
My Store
I have a store front now with other options games and accessories.  Check out the store here:
https://www.ebay.com/str/nesgamesandmore