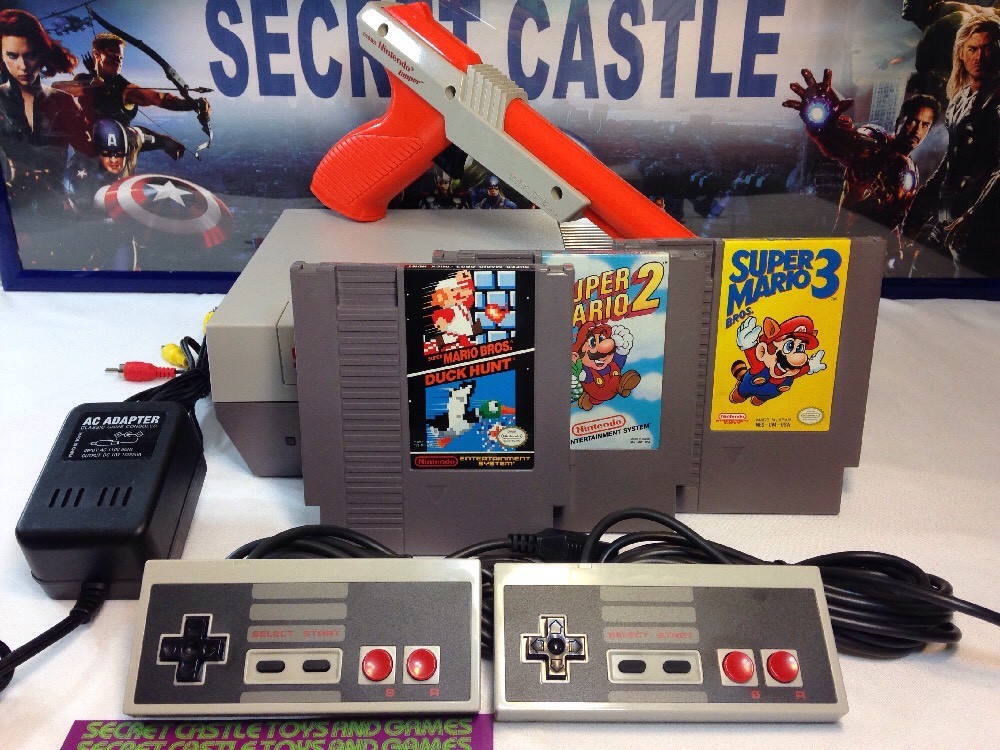 Price: 299.99 USD
Classic Nintendo Game:
Nintendo NES Console W Super Mario Bros 1 2 & 3 Zapper Gun NEW 72 PIN WARRANTY
 NES Nintendo Console with Super Mario Bros / Duck Hunt Game, Super Mario Bros. 2, Super Mario Bros. 3
(Everything Pictured is Included)
All systems are guaranteed to work or your money back. The system will include 2 third party Nintendo controllers (10ft cords), a 2nd party AC adapter, av video cable, official Nintendo Zapper Gun and Super Mario Bros Duck Hunt, Super Mario Bros. 2 & 3
Nintendo console has a new 72 pin connector installed, Everything has been cleaned inside and out, the motherboard pins have been polished, all original wiring has been tested for flaws. Super Mario Bros 1 2 & 3 have also been opened and professionally cleaned.
System has a 60 day money back guarantee.  
The Images are stock photos, your Nintendo console will be in similar cosmetic condition. Minor flaws may include mild surface scratches, light (never heavy or moderate) yellowing, faint discoloration, chips, nicks, or none at all.
   At anytime, feel free to message me if you would like to see the exact NES that your buying.
Original OEM Controllers, Power, Or Co-axle Cable can be provided (instead of whats included) at no additional charge.
USAGE WARNINGS
PLEASE MAKE SURE ALL GAMES PUT INTO THE SYSTEM ARE CLEAN. PUTTING DIRTY GAMES INTO THE SYSTEM CAN MAKE THE CONTACTS ON THE NEW 72 PINS DIRTY. DIRTY PINS ARE THE CAUSE OF ALL THE HASSLE WHEN TRYING TO GET YOUR NES GAMES TO WORK.
NINTENDO ZAPPER GUN DOES NOT WORK ON FLATSCREEN, PLASMA, HD, OR ANY NEW TV'S. IT ONLY WORKS ON THE OLD SCHOOL TUBE TV'S. 
LIKE SECRET CASTLE TOYS AND GAMES ON FACEBOOK!!!!
I ship quickly and safely. ONE BUSINESS DAY!
If you have any questions, please message me. 
Be sure to check out my other listings, I add new items Daily (most of them don't last long)
SUBSCRIBE TO SECRET CASTLE TOYS AND GAMES ON YOUTUBE!!!