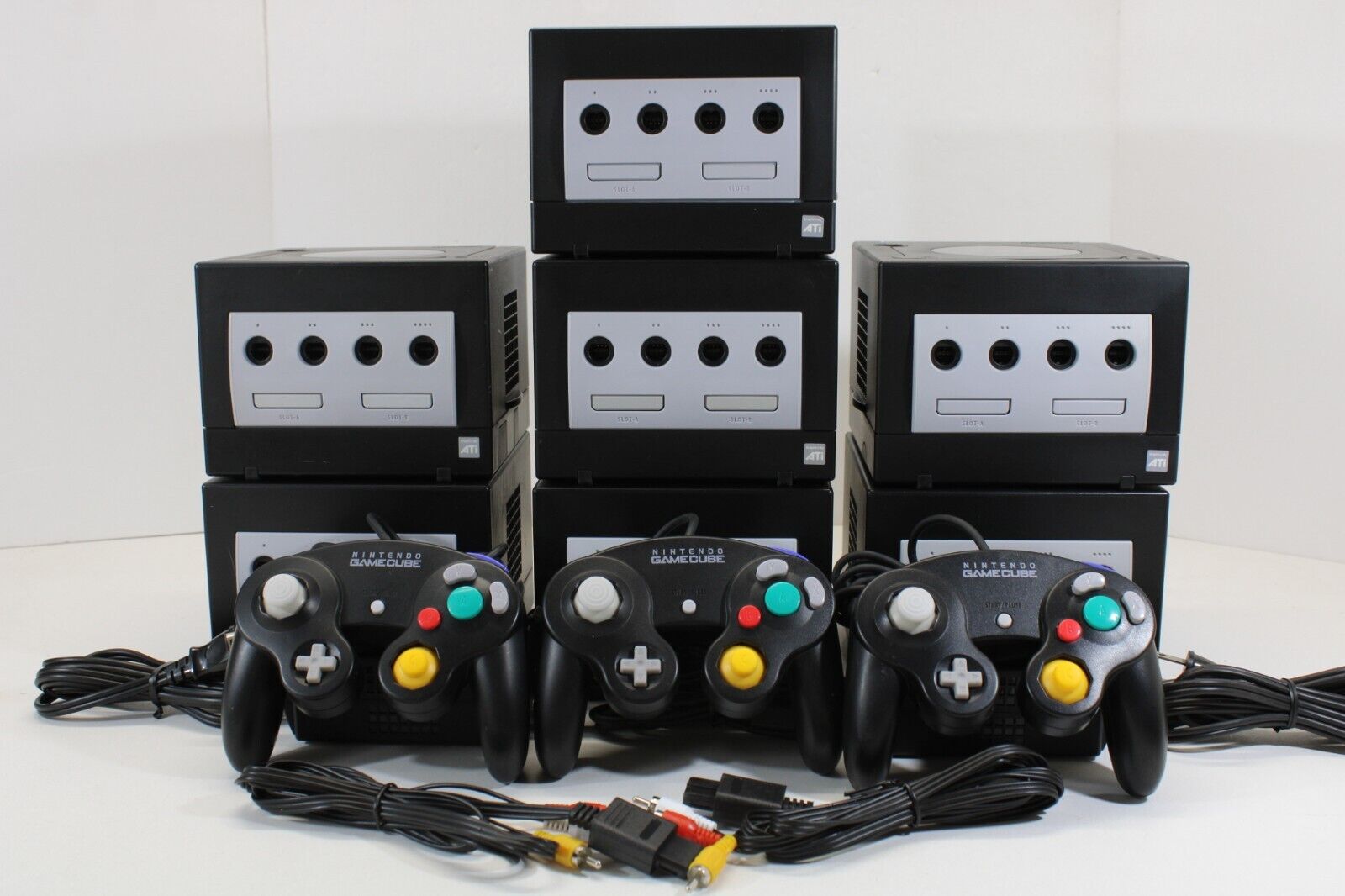 Price: 121.99 USD
Classic Nintendo Game:
Nintendo GameCube Jet Black GC Console Bundle US Region Games Updated: 6/2/22




Condition: Used. In good working condition. We tested every single
console
and controller and made sure it is in working condition. Region is set to US/Canada so this
console
will now play North American region games. It will not play
Japanese
games.
You can simply choose the
console
bundle from the dropdown menu and see photos of the exact item you are purchasing. Explanation of bundle type is below.
"Crack" = This means the
console
has a crack/cracks.
"Rust" = This means the
console
shows rust
"Special" = We use different colored buttons and bottom ports for a unique
console
bundle
"Damaged' = This means the
console
shows damage on the shell as shown in photos.
"Glue" = This means the console has old glue on it as shown in photos.  
"No Rumble" = This means the controller does not have rumble feature.
"DOL-101" = This is a later model of Gamecube that does not have the 
digital port out and also port 2 has been removed.
If it says "1 Controller AC AV", it will come with controller x 1, AV cable, and AC Adapter. 
Please understand that even a great
console
still can have cosmetic wears and/or discoloration since GameCube consoles are more than 15 years old.
This listing is organized from 
quantity
 of controllers and then 
most 
expensive
 at the top and the cheapest at the bottom.
If bundle comes with controller(s), joystick mechanism (stick box, cap, potentiometer) may have been replaced with new ones (3rd party). We will make sure you receive tight stick controller(s).
Console
and/or controller may come with discoloration. Discoloration is due to a chemical reaction between UV light and Bromine in which they mixed with the plastic to make the plastic fire resistant. 
When we restock the item, we take photos and replace with old photos. So you will receive the exact console bundle you see in the photos.
We test AV port with Composite AV Cable. We DO NOT test a digital input since we don't own a cable to test and it is not guaranteed if it is in working condition.
We carefully test the console again right before we ship out. Also, we use good amount of bubble wraps to protect the console and then put it in the cardboard box to ship it. Even though we try our best to ship the item protected but there is always a possibility that console can get damaged during the transit. If it doesn't work upon arrival, please let us know. We will take full responsibility for non-playable console.
We strive to ship all orders in the same business day when the payment is made by 1PM Mountain Time.
If the payment is made after 1PM, it will be shipped on next business day. 
Immediate payment is required for this listing.