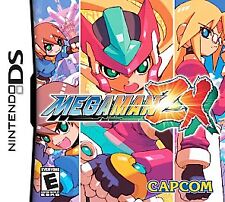 Price: 14.99 USD
Classic Nintendo Game:
MEGAMAN ZX MEGA MAN (Nintendo DS, 2006) GAME ONLY NICE SHAPE NES HQ
Hello to all and Thank You for visiting NES HEADQUARTERS!!  YOUR #1 STOP FOR VINTAGE NINTENDO!!All of the games I sell have been taken apart, hand polished, tested, and perform like new!!!  If you have any problems with your order from me, send back within 30 days for a complete refund!! Thank you very much for your visit!!Up for sale is MEGA MAN ZX DS–GAME ONLY   for the NINTENDO DS .  The game is in great condition and works excellent!!Take a look at my other auctions, as I am adding to my auctions daily!!  HAVE A GREAT DAY!!

IMPORTANT INFORMATION ABOUT YOUR NINTENDO SYSTEM!!
———————————————————————————————–
The 72 Pin Connector inside of your original Nintendo console is the key to the longevity of your system.  Inserting dirty games into the system will contaminate the pin connector and will eventually cause the infamous blinking problem.  That is why it is so important to insert only clean games into your system.  Every game I sell is professionally cleaned, insuring optimum performance.  Be aware there are a lot of people on E-Bay selling dirty games that will ruin your pin connector very fast.  Be sure buy your games from a trusted seller.  I can provide you that trust!!
Posted with eBay Mobile