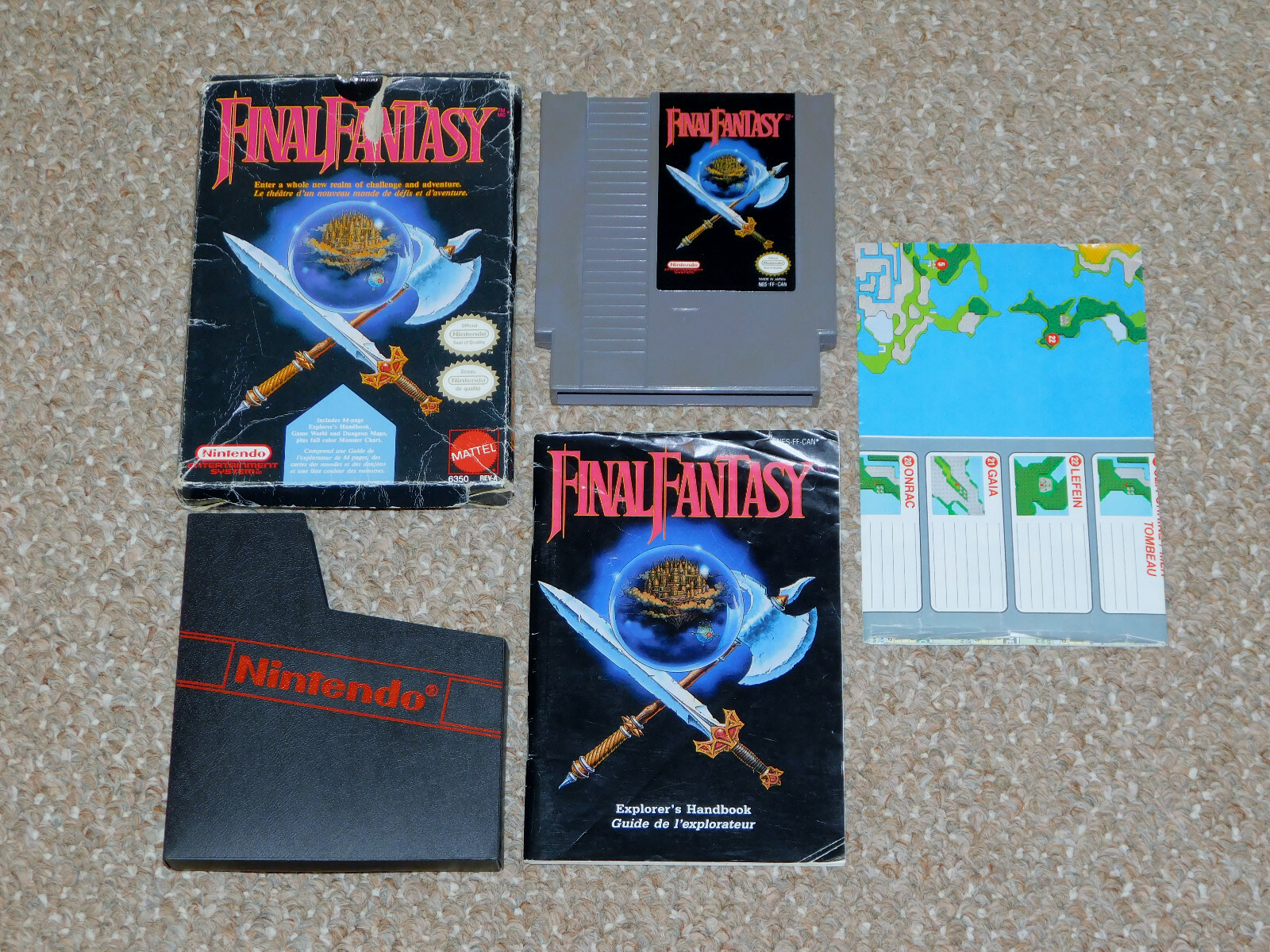 Price: 88.74 USD
Classic Nintendo Game:
Final Fantasy Nintendo NES with Box, Manual & 1 Map
For your consideration we present a USED

Final Fantasy for the Nintendo NES with Box, Manual & 1 Map
Game is tested and working. It includes its original box, manual and one map. Note that the box is in poor condition and has severe shelf wear, including dents, dings, creases and tears. Part of the box has been ripped off and taped back together. The map and manual are also creased and torn. Hard to find bilingual Canadian packaging variant (game is English only). What you see is what you get. Item is sold AS IS.
Shipping Costs, Conditions, and Terms:
Canadian Customers:
We only ship our items via Canada Post; we will not use any other service at this time. We will email all of our customers their tracking information once their package has shipped. We will not ship to other countries. Residents of the Canadian North (including some northern or rural parts of most the Canadian Provinces and all destinations in the Canadian Territories) may be required to pay additional shipping charges.
Shipping to Nova Scotia and New Brunswick is oftentimes cheaper than our flat rate shipping for the rest of Canada. If you live in either province we may offer cheaper shipping rates. Please email us if you live in Nova Scotia or New Brunswick before paying for your items to find out if you are eligible for a shipping discount. This discount is NOT offered to residents of any other provinces.
American Customers:
We offer Expedited shipping to all American addresses on all items. We also offer Small Packet Air on some items (depending on weight, value and package size). Expedited shipping includes full tracking and insurance, while Small Packet Air offers a maximum of $100 insurance and does not include tracking.
Small Packet Air shipping for this item is not available due to package weight, size or value!
We only ship our items via Canada Post; we will not use any other service at this time. If you live in the USA, please note that once packages cross into the USA, Canada Post passes your package off to USPS. We will email all of our customers their tracking information once their package has shipped. We will not ship to other countries. 
We will ship to any American address with a valid zip code (including all APO/FPO and USA Territories). Please note that residents of Alaska, Hawaii, all USA Territories and some APO/FPOs may be required to pay additional shipping charges.
Other International Customers: Please note that we will only ship to Canada and the USA. No exceptions!
Expected Arrival for Canadian Residents:
We use one method to ship our items within Canada: Expedited via Canada Post. Expedited shipping usually takes 5-6 business days, but can take as many as 13 days to the Canadian Territories. If you have questions or concerns about shipping within Canada, or arrival times, then please contact us.
We will only use this method to ship a package within Canada. We require that all of our packages are tracked with insurance in order to protect us and our customers from a variety of things that can go wrong that neither party has control over once a package is in transit. We will not use uninsured or untrackable shipping methods within Canada.
Expected Arrival for USA Residents:
We will only ship items to the USA using Canada Post's Expedited International USA or Small Packet Air services.
According to the Canada Post website, Expedited take "as little as 6 days." In our experience the average is closer to approximately 15 business days for arrival for many of our stateside customers. This service is fully insured and comes with full tracking. Tracking is available on both the USPS and Canada Post websites.
The Canada Post website also claims that Small Packet Air takes 6-10 business days. In our experience the average is closer to 20 business days for arrival using this service. Despite Small Packet Air packages being insured, they do not included tracking.
We offer Small Packet Air shipping on certain items in order to keep the cost of shipping low for clients who are willing to wait a little bit longer for their package and who do not feel that tracking is necessary to meet their individual needs. If you want more peace of mind and faster shipping then we encourage you to choose Expedited shipping.
If Small Packet Air is not offered as a shipping option for this particular item then this means that this item is too heavy, too large or has a higher value than the maximum insured value for using this service.
Customs/Duty Fees:
Due to border laws, some of our packages will inevitably be held by customs. Customs is allowed to hold a package for 12 days. We are NOT responsible for customs delays or any fees or duty that may incur due to customs. International shipping almost always takes a few weeks for arrival; please be prepared for potential customs delays and for the fact that since your package has to cross an international border that it will take longer than if you purchased the item domestically. Border security is only getting tighter and delays will happen.
If you have picked Expedited shipping and your package does not arrive in the 15 day timeframe then please check your tracking information: it may be held up by customs. If you have any questions or concerns please contact us.
If you have picked Small Packet Air shipping and your package has not arrived within the 20 day timeframe please let us know. This could mean that your package is being held by customs, but without tracking it is impossible to know for sure.
Please note that Canada Post requires that 30 days must pass before a claim can be filed on international items. If your package does not arrive within 30 days of us shipping it then please contact us. We will call Canada Post to file a claim on your behalf. The claims process can take a couple of weeks, and it is our hope that a Canada Post investigation may find a package that has not arrived. If Canada Post cannot find your package once an investigation has been completed then we will refund you for the total amount of the item via Paypal. We will do everything that we can to accommodate you if there is a problem with your package, but we expect you to contact us if you have any questions, concerns, or problems with an item that you purchase from East Coast Toys and Games. Please be patient if your package is delayed because once we ship an item we have little control over what happens to it. We take customer service and customer satisfaction very seriously and will do everything that we can to accommodate you if you have a problem with something purchased from us.
Combined Shipping:
We offer combined shipping on our items whenever possible. Some of our items, such as posters, may be difficult to combine with other items. In cases like this we will not offer combined shipping or will mention shipping alternatives. Also, if you prefer Small Packet Air as a shipping method please note that weight, size and value of the items you purchase may prevent us from being able to use this method. Despite this, Expedited shipping is always an option for combined shipping (unless combining items is unsafe as in the example of posters noted above).
Our combined shipping rates are not fixed. Instead we will base combined shipping rates on weight and package size. We will even offer free combined shipping on many of our items (if possible), but this depends entirely on the size and weight of the items that are purchased. 
DO NOT PAY FOR ITEMS THAT YOU WANT TO COMBINE INTO ONE PACKAGE BEFORE WE SEND YOU AN INVOICE WITH THE PROPER SHIPPING AMOUNT!
If you are interested in purchasing multiple items please contact us so we can discuss shipping rates. Do not pay for multiple purchases until we send you the proper invoice: Now that eBay is charging final value fees on shipping we will charge a surcharge in order to cover these fees if customers want combined shipping but pay for their items separately. We try to keep our combined shipping rates as low as possible. If you are purchasing two low weight, small size items, then it is probable that you may not have to pay any additional shipping costs.
Taxation
As a registered business in Canada we are required to collect GST/HST on all Canadian transactions. If you live in a province that has HST then you are required to pay full HST on any item purchased from East Coast Toys and Games; similarly, if your live in a province that does not have HST then you will be required to pay 5% GST on any item purchased from East Coast Toys and Games. This system is based on us being required to charge tax based on parcel destination.
Residents of the USA Territories are legally exempt from paying GST or HST on almost all items purchased from Canada. This is due to taxation being based on the destination, and GST/HST is a Canadian only form of taxation. This does not exempt you from potential customs charges or duty that may incur.
Local Pickup
We offer free local pickup on all of our items, but you must pick up the item from us at our home. We do not deliver items. We require that all of our items are paid for via Paypal and this includes local pickup items. Local pickup does not exempt you from paying the 15% HST that is charged on all items that are picked up locally from us in Nova Scotia.
Our Goals and Guarantees:
One of our major goals is to provide one of the best experiences possible on Ebay for all of our customers. We want to be one of the best companies on ebay and strive for 100% positive feedback and perfect 5 star DSR ratings. We take the time to email our customers to let them know when their item has shipped and how they can track it. We will always answer emails in a timely fashion and are upfront about the condition and expected delivery time of our items. If you think we are doing a good job then we want to hear from you; if you think that there is room for improvement then we also want to hear from you. Our goal is to constantly improve your experience when you shop with East Coast Toys and Games!