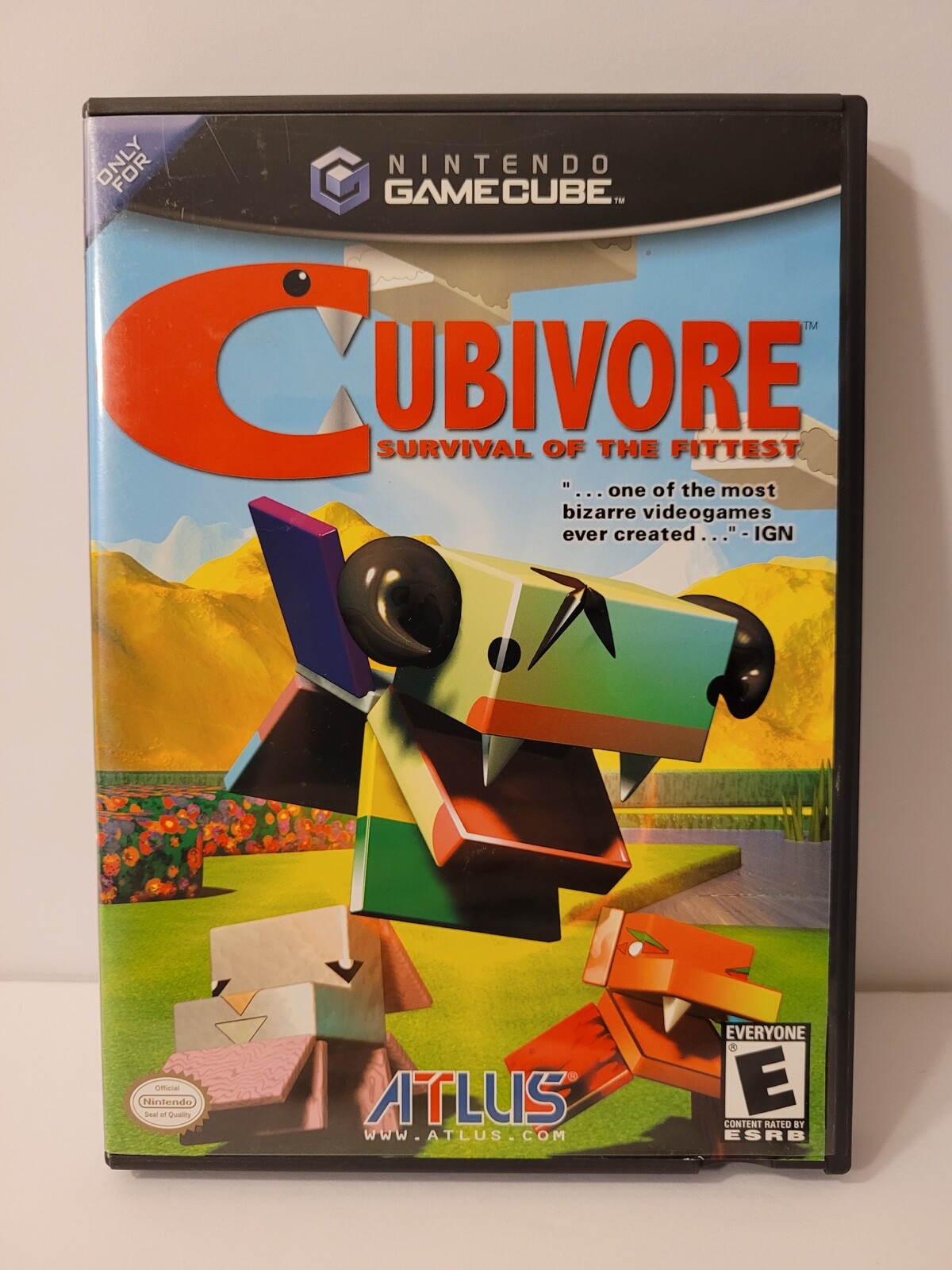 Price: 650.00 USD
Classic Nintendo Game:
Item specifics
Condition:

Very Good:

An item that is used but still in very good condition. No damage to the jewel case or item cover, no

Features:
Manual Included
Region Code:

NTSC-U/C (US/Canada)

Rating:

E-Everyone

UPC:

0730865610013

Platform:
Nintendo GameCube
Release Year:

2002

MPN:

DOL-GCVE

Publisher:

Altus

Genre:

Simulation

Game Name:

Cubivore: Survival of the Fittest
Up for sale is a very rare Nintendo Gamecube game Cubivore: Survival of the Fittest (2003) Complete with Manual – USA English Version Copy – 100% Authentic!! Tested and Works Perfectly!! 
Please review my description & pictures closely for exact condition & feel free to contact me with any questions!
*International buyers, please make sure you can play US / NTSC games before buying.
Game & Condition:
• This game is open / gently used & is in EXCELLENT condition overall.  
It includes the original case, game disc & manual + insert. (everything pictured)
The game disc is in excellent condition overall showing minimal signs of use. 

(see pics 7&8)
The game 

manual is in excellent condition overall but does show signs of use; multiple light creases and bending top corner. (see pics 5&6)
The game case is in very good condition overall but does contain 

normal

 shelf wear. (see pics 1-4)
Also will INCLUDE PLASTIC CASE

 for extra protection. 
TESTED, CLEANED & WORKS PERFECTLY!!

 
 Ideal for any gamer / collector looking for a top-quality copy of the game to add to your collection!
This game is in EXCELLENT condition overall, especially for its age and rarity!
Game was owned by a collector for years, in a smoke-free home. 
                                                Payment:
Please pay for your purchase within 2 days, if you need more time I can usually work with you if you let me know.
                                                Shipping:
I usually ship games within 2-3 business days.
Worldwide shipping is available at the calculated rate. Please allow 2-6 weeks for your package to arrive for Intl. shipments (speed varies by country). For some high value games only Priority Mail will be available. 
As a collector myself, I understand how important it is to make sure games are packed right and arrive safely. Rest assured all games will be packed with great care and will arrive as described.
                                              Feedback:
If you have any problem with a transaction whatsoever, please contact me before leaving feedback, I will always work with you to come to a fair solution.
                       I do not cancel orders or accept returns: 
All games are sold as-is, described accurately to the best of my knowledge. Please review all pictures and item details and ask any questions you may have before buying or bidding. 
Thanks for looking! Good luck! Please check my listing for other games!
About this product
Product Information

Cubivore: Survival of the Fittest for the Nintendo GameCube combines a simplistic geometric art style with addicting, strategic gameplay that mimics the process of natural selection. Players begin the evolutionary journey as a newborn lifeform in a world populated by cubed animals. Weak and wobbling with only one limb, newborn players have one goal in mind: further the process of evolution through the act of devouring lesser life forms while trying not to be devoured themselves.This constant evolutionary drive gives Cubivore a layer of strategic thinking that belies its cute, whimsical art style. In order to succeed at this game, you must first learn the enemy's attack patterns and adjust your strategy to defeat them. Then, once the enemy is consumed, you must decide how you will mutate. The game will grant you different categories of mutations. The list of mutations in the category open to you is based on the color and intensity of the creatures you devour. You may then choose any of the mutations that you have enough points for. Each creature consumed has a different effect on the player's statistics; with 100 unique animals waiting to be eaten, there is endless growth potential. This level of strategy made Cubivore unique among console games at the time it was released in 2002.As players defeat each boss-level animal, they gain the ability to mate and create powerful offspring. Creatures with higher mutation rates are more desirable to potential female companions, opening up a huge variety and range of potential evolutionary changes. Each generational cycle brings the addition of one more appendage until final evolution is reached at five limbs. The ultimate goal of the game is to defeat the Killer Cubivore, an apex predator who has fed off the essence of the land. After you have reached a high enough fitness level, you can become the King of All Cubivores and restore the world back to its natural state.The game operates on a familiar cycle of life, death, and genesis as you consume weaker Cubivores and acquire their mutations to defeat the game's bosses. Once you encounter a more powerful enemy, you must mate with a female Cubivore and continue playing as the better-adapted offspring. The game's mechanics and systems allow for plenty of experimentation and variety, even as you're ostensibly working toward a single goal of reaching the top of the food chain and defeating the Killer Cubivore. It's one of those games that will challenge your mind as well as your reflexes.Released in both Japan and the U.S. in 2002 for the GameCube, Cubivore springs from the innovative minds of co-developers Saru Brunei and Intelligent Systems, the acclaimed developer of the Fire Emblem series. The game was published by Atlus in North America and Nintendo in Japan. Together, the developers successfully crafted a quirky and unique journey unlike anything you've ever played before. Gamers of all skill levels are sure to enjoy this mixture of action-adventure, role-playing, simulation, and strategy in this over-exaggerated world of evolution and survival. This is a video game that people of all ages can play and enjoy, so it has an ESRB rating of E for Everyone ages 10 and up.



Product Identifiers

Publisher
Altus
MPN
DOL-GCVE
UPC
0730865610013
eBay Product ID (ePID)
10024



Product Key Features

Platform
Nintendo GameCube
Release Year
2002
Game Name
Cubivore: Survival of the Fittest
Genre
Simulation



Additional Product Features

ESRB Descriptor
Suggestive Themes, Violence
ESRB Rating
E-Everyone
Game Name Special Features
Conquer bosses to acquire new skills and to obtain the right to procreate Change your mobility, fierceness, mobility, and strength by conquering different animals Avoid predators while you attack and consume lesser creatures i
Control Elements
Gamepad/Joystick
Number of Players
1
Location
USA