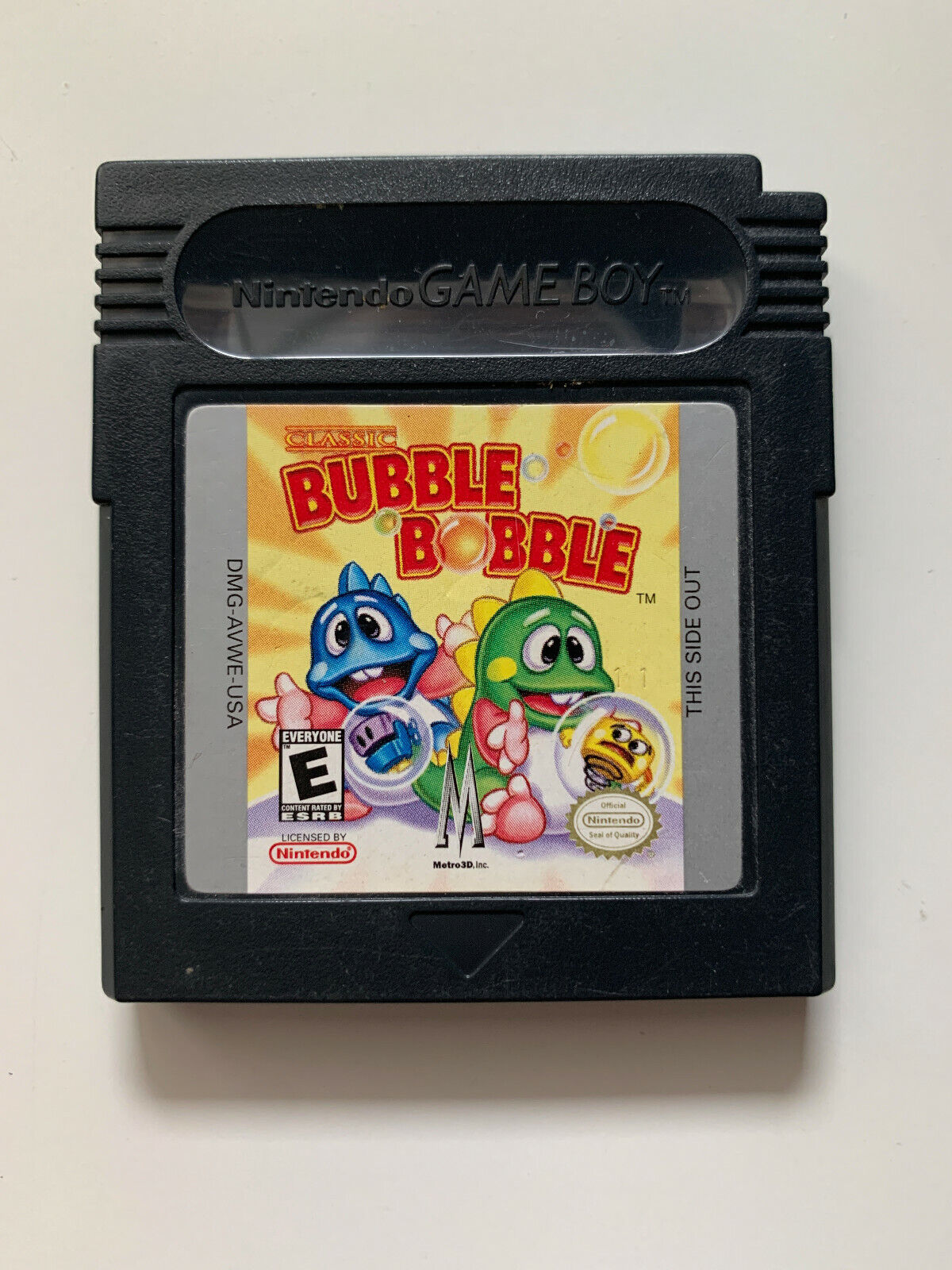 Price: 27.91 USD
Classic Nintendo Game:
Classic Bubble Bobble – Nintendo Gameboy – Official – Works – Good Condition
ITEM DESCRIPTION:
See images for condition.

This is the exact item(s), in the exact condition you will receive.

The images count as part of the description.

If you have any questions, please ask prior to purchase.

For batch orders please contact me prior to set up the invoice.
ITEM CONDITION:
Please review the pictures of the item you are purchasing, especially if the item is in "Used" condition.  Most items that are used have some use of wear marks on them.  

We do not guarantee "Mint Condition" packaging on new or vintage items. 

Even items received directly from the manufacturer may have small dents/dings from shipping. If there is any major packaging damage, that will be disclosed in the item description.
SHIPPING INFORMATION:
Combined shipping is available for ALL purchases made at the same time. 

All items purchased are shipped within 1 business day.  A business day is a normal weekday. Saturdays, Sundays, and major holidays are not business days.

Tracking information is posted by the end of the next business day (Eastern Time) after purchase, (IF APPLICABLE) Economy Shipping does not include tracking,

Tracking information can be found in the "Purchase History" of your "My eBay" section. 

Shipping to P.O. boxes is NOT available.
PACKAGING
All items are packaged with care to make sure you receive the item just as pictured.  

Please do not request special packaging/instructions on how to package. 
TAX
Please note all sales are charged provincial sales tax, see below:
Alberta (AB)* 5.000 %    

British Columbia (BC)* 5.000 %    

Manitoba (MB)* 5.000 %    

New Brunswick (NB)* 15.000 %  

Newfoundland and Labrador (NL)* 15.000 %  

 Northwest Territories (NT)* 5.000 %  

 Nova Scotia (NS)* 15.000 %    

Nunavut (NU)* 5.000 %    

Ontario (ON)* 13.000 %    

Prince Edward Island (PE)* 15.000 %    

Quebec (QC)* 5.000 %    

Saskatchewan (SK)* 5.000 %    

Yukon (YT)* 5.000 %
FEEDBACK
Your positive feedback means a lot! 

If there is any issue with your item, contact us first so we can resolve the issue before leaving feedback

Feedback will be left for the buyer after positive feedback has been left for the completed transaction.
NOTE:
I check feedback left by buyers for other sellers prior to purchase, if I see you leave a lot of negative feedback for sellers, I will cancel the order and block your account.

Also note, I will file mail fraud claims if there is an unjust claim with no substantial proof.

Remember, there are NO RETURNS, if you do purchase and attempt to return, You will be granted the return but at your own cost to ship the item back, meaning you will have paid for shipping twice, that's why it is important to ask questions first.

I will report any buyer that abuses my terms to eBay and paypal, just be smart and look at the images and ask questions before you buy

All economy mail is shipped with instruction to return the package if undeliverable, therefore if you claim your item is not received I will wait for it to be returned in the mail, if it is not, I will file a mail fraud claim, as the item has been received by the buyer and they are attempting theft. (I have never once had a package lost in the mail, tracked or untracked)