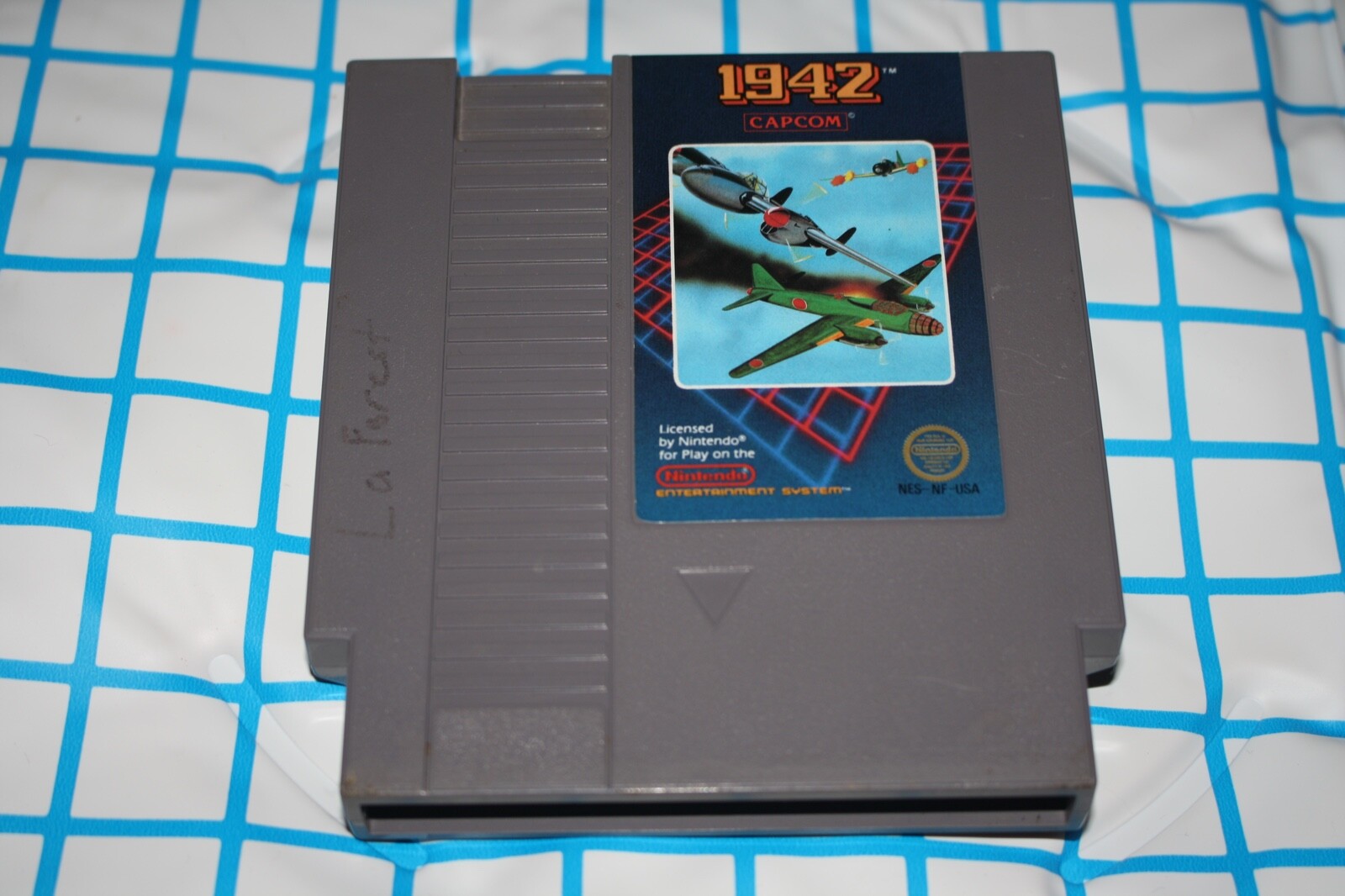 Price: 22.99 USD
Classic Nintendo Game:
CHOOSE YOUR OWN LOT – NES Nintendo Game Carts AUTHENTIC & TESTED – up to 15% OFF
Hi and happy gaming!
I'm willing to sell each game individually, or in custom lots. Your choice! =)
– Save $$$ on games and shipping when purchasing multiple at a time.
Add each game into your cart and the eBay system will apply all game cart and shipping discounts at the time of purchase.
Games have been tested to play upon startup, unless otherwise stated.  
Cart Only: game only, case and manual ARE NOT INCLUDED.  
CIB: Complete in Box, case and manual ARE INCLUDED (however additional items may or may not be included – just ask for specifics if you have questions) .
Individual pictures are added under the title of each game, please use them for determining condition.  If you have questions about any specific game, just ask.
*ebay isn't loading all of the pictures just yet, but I'm working on it.  Meanwhile, if there's a title you'd like to see then send me a message and I'll send the images to you.
3-D World Runner (Nintendo NES, Acclaim) Authentic
8 Eyes (Nintendo NES, Taxan) Authentic, Tested
8 Eyes (Nintendo NES, Taxan) 2nd Copy
8 Eyes (Nintendo NES, Taxan) 3rd Copy
Abadox (Nintendo NES, Milton Bradley) 1st Copy
Abadox (Nintendo NES, Milton Bradley) 2nd Copy
Abadox (Nintendo NES, Milton Bradley) 3rd Copy
Archon (Nintendo NES, Activision)
Back to the Future (Nintendo NES, LJN Games)
Back to the Future II & III (Nintendo NES, LJN) 1
Back to the Future II & III (Nintendo NES, LJN) 2
Barker Bill's Trick Shooting (Nintendo NES) 1st
Barker Bill's Trick Shooting (Nintendo NES) 2nd
Batman – The Video Game (NES, Sunsoft) 1st Copy
Batman – The Video Game (NES, Sunsoft) 2nd Copy
Batman – The Video Game (NES, Sunsoft) 3rd Copy
Batman – The Video Game (NES, Sunsoft) 4th Copy
Batman – The Video Game (NES, Sunsoft) 5th Copy
Battletoads (Nintendo NES, Tradewest) 1st Copy
Battletoads (Nintendo NES, Tradewest) 2nd Copy
Bill & Ted's Excellent Adventure (NES)
The Black Bass (Nintendo NES, Hot-B)
Blaster Master (Nintendo NES, Sunsoft) 1st Copy
Blaster Master (Nintendo NES, Sunsoft) 2nd Copy
Blaster Master (Nintendo NES, Sunsoft) 3rd Copy
Blaster Master (Nintendo NES, Sunsoft) 4th Copy
Blaster Master (Nintendo NES, Sunsoft) 5th Copy
Bugs Bunny Birthday Blowout (Nintendo NES, Kemco)
Burgertime (Nintendo NES, Data East)
Cabal (Nintendo NES, Milton Bradley)
Castlequest (Nintendo NES, Nexoft)
Caveman Games (Nintendo NES, Data East)
Chip N Dale Rescue Rangers (NES, Capcom) 1st Copy
Chip N Dale Rescue Rangers (NES) 2nd Copy
Chip N Dale Rescue Rangers (NES) 3rd Copy
Chip N Dale Rescue Rangers (NES) 4th Copy
Clash at Demonhead (Nintendo NES, Vik Tokai)
Commando (Nintendo NES, Capcom) 4th Copy
Life Force (Nintendo NES, Konami) 1st Copy
Life Force (Nintendo NES, Konami) 2nd Copy
Life Force (Nintendo NES, Konami) 3rd Copy
Life Force (Nintendo NES, Konami) 4th Copy
Deja Vu (Nintendo NES, Seika Corp)
Demon Sword (Nintendo NES, Taito)
Dig Dug II – Trouble in Paradise (NES, Bandai) 2nd
Dirty Harry (Nintendo NES, Mindscape)
Double Dragon (Nintendo NES, Acclaim) 1st Copy
Double Dragon (Nintendo NES, Acclaim) 2nd Copy
Double Dragon (Nintendo NES, Acclaim) 3rd Copy
Double Dragon II (Nintendo NES, Acclaim) 1st Copy
Double Dragon II (Nintendo NES, Acclaim) 2nd Copy
Super Dodge Ball (Nintendo, Sony Imagesoft) 1st
Super Dodge Ball (Nintendo, Sony Imagesoft) 2nd
Dr. Chaos (Nintendo NES, FCI)
Dragon Spirit The New Legend (NES, Bandai) 1st
Dragon Spirit The New Legend (NES, Bandai) 2nd
Dragon Spirit The New Legend (NES, Bandai) 3rd
Dragon Spirit The New Legend (NES, Bandai) 4th
Dragon Warrior (Nintendo NES) 1st Copy
Dragon Warrior (Nintendo NES) 2nd Copy
Dragon Warrior (Nintendo NES) 3rd Copy
Dragon Warrior (Nintendo NES) 4th Copy
Dragon Warrior (Nintendo NES) 5th Copy
Duck Tales (Nintendo NES, Capcom)
Faxanadu (Nintendo NES) 1st Copy
Faxanadu (Nintendo NES) 2nd Copy
Faxanadu (Nintendo NES) 3rd Copy
Faxanadu (Nintendo NES) 4th Copy
Fester's Quest (Nintendo NES, Sun Soft) 1st Copy
Fester's Quest (Nintendo NES, Sun Soft) 2nd Copy
Freedom Force (Nintendo NES, SunSoft)
Gauntlet (Nintendo NES, Tengen) 1st Copy
Gauntlet (Nintendo NES, Tengen) 2nd Copy
Gauntlet (Nintendo NES, Tengen) 3rd Copy
Gauntlet II (Nintendo NES, Mindscape) 1st Copy
Gauntlet II (Nintendo NES, Mindscape) 2nd Copy
Ghostbusters (Nintendo NES, Activision) 1st Copy
Ghostbusters (Nintendo NES, Activision) 2nd Copy
Ghosts N Goblins (Nintendo NES, Capcom) 1st Copy
Ghosts N Goblins (Nintendo NES, Capcom) 2nd Copy
Ghosts N Goblins (Nintendo NES, Capcom) 3rd Copy
Gilligan's Island (Nintendo NES, Bandai)
Gyruss (Nintendo NES, Ultra)
Hook (Nintendo NES, Sony Imagesoft)
Ikari Warriors (Nintendo NES, SNK) 5-Screw – 1st
Ikari Warriors (Nintendo NES, SNK) 5-Screw – 2nd
Ikari Warriors (Nintendo NES, SNK) 5-Screw – 3rd
Immortal (Nintendo NES, Electronic Arts)
Jackal (Nintendo NES, Konami) 1st
Jackal (Nintendo NES, Konami) 2nd
Jackal (Nintendo NES, Konami) 3rd
Jaws (Nintendo NES, LJN) 1st
Jaws (Nintendo NES, LJN) 2nd
Jaws (Nintendo NES, LJN) 3rd
Joust (Nintendo NES, HAL Labs)
Kabuki Quantum Fighter (Nintendo NES, HAL Labs)
The Karate Kid (Nintendo NES, LJN)
Karnov (Nintendo NES, Data East) 1st
Karnov (Nintendo NES, Data East) 2nd
Karnov (Nintendo NES, Data East) 3rd
Karnov (Nintendo NES, Data East) 4th
Karnov (Nintendo NES, Data East) 5th
Kickle Cubicle (Nintendo NES, IREM)
King of Kings (Nintendo NES, Wisdom Tree)
Kirby's Adventure (Nintendo NES, HAL)
Klax (Nintendo NES, Tengen)
Klax (Nintendo NES, Tengen) 2nd
Knight Rider (Nintendo NES, Acclaim) 1st
Knight Rider (Nintendo NES, Acclaim) 2nd
Knight Rider (Nintendo NES, Acclaim) 3rd
Krusty's Fun House (Nintendo NES, Acclaim)
Laser Invasion (Nintendo NES, Konami)
The Legend of Kage (Nintendo NES) 5-screw
The Legend of Kage (Nintendo NES)
Little League Baseball (Nintendo NES, SNK)
Little Nemo The Dream Master (NES, Capcom) 1st
Little Nemo The Dream Master (NES, Capcom) 2nd
The Adventures of Lolo (Nintendo NES, HAL)
Marble Madness (Nintendo NES, Milton Bradley) 1st
Marble Madness (Nintendo NES, Milton Bradley) 2nd
Marble Madness (Nintendo NES, Milton Bradley) 3rd
Marble Madness (Nintendo NES, Milton Bradley) 4th
Mendel Palace (Nintendo NES, Hudson Soft)
Metal Gear (Nintendo NES, Ultra) 1st
Metal Gear (Nintendo NES, Ultra) 2nd
Metroid (Nintendo NES) 1st
Metroid (Nintendo NES) 2nd
Mighty Bomb Jack (Nintendo NES, Tecmo)
Monster Party (Nintendo NES, Bandai) 1st
Monster Party (Nintendo NES, Bandai) 2nd
Monster Party (Nintendo NES, Bandai) 3rd
Monster Party (Nintendo NES, Bandai) 4th
Monster Party (Nintendo NES, Bandai) 5th
M.U.S.C.L.E. MUSCLE Tag Team Match (NES, Bandai)
NES Open Tournament Golf (Nintendo NES)
Nigel Mansell's World Championship Racing (GameTek
Ninja Gaiden (Nintendo NES, Tecmo) 1st
Ninja Gaiden (Nintendo NES, Tecmo) 2nd
Ninja Gaiden (Nintendo NES, Tecmo) 3rd
Ninja Gaiden (Nintendo NES, Tecmo) 4th
Ninja Gaiden II The Dark Sword of Chaos (Tecmo) 1
Ninja Gaiden II The Dark Sword of Chaos (Tecmo) 2
Ninja Gaiden II The Dark Sword of Chaos (Tecmo) 3
Nobunaga's Ambition (Nintendo NES, KOEI)
Overlord (Nintendo NES, Virgin Interactive)
Pac-Man (Nintendo NES, Tengen)
Palamedes (Nintendo NES, Hot-B)
Paperboy (Nintendo NES, Mindscape) 1st
Paperboy (Nintendo NES, Mindscape) 2nd
Paperboy (Nintendo NES, Mindscape) 3rd
Fox's Peter Pan and the Pirates (NES, THQ)
Pinball Quest (Nintendo NES, Jaleco)
Punch Out (Nintendo NES) 1st
Punch Out (Nintendo NES) 2nd
Punch Out (Nintendo NES) 3rd
Punch Out (Nintendo NES) 4th
Mike Tyson's Punch Out (Nintendo NES) 1st
Mike Tyson's Punch Out (Nintendo NES) 2nd
Mike Tyson's Punch Out (Nintendo NES) 3rd
Q*bert Qbert (Nintendo NES, Ultra) 1st
Q*bert Qbert (Nintendo NES, Ultra) 2nd
Rampage (Nintendo NES, Data East) 1st
Rampage (Nintendo NES, Data East) 2nd
Rampage (Nintendo NES, Data East) 3rd
Rampart (Nintendo NES, Jaleco) 1st
Rampart (Nintendo NES, Jaleco) 2nd
Ring King (Nintendo NES, Data East) 5-screw
RoboCop 2 (Nintendo NES, Data East) 1st
RoboCop 2 (Nintendo NES, Data East) 2nd
Roger Rabbit (Nintendo NES, LJN) 1st
Roger Rabbit (Nintendo NES, LJN) 2nd
Roger Rabbit (Nintendo NES, LJN) 3rd
Rygar (Nintendo NES, Tecmo) 1st
Rygar (Nintendo NES, Tecmo) 2nd
Rygar (Nintendo NES, Tecmo) 3rd
Rygar (Nintendo NES, Tecmo) 4th
The Magic of Scheherazade ( NES, Culture Brain) 1s
The Magic of Scheherazade ( NES, Culture Brain) 2n
The Magic of Scheherazade ( NES, Culture Brain) 3
The Magic of Scheherazade ( NES, Culture Brain) 4
Section Z (Nintendo NES, Capcom) 5-screw
Eggsplode & Short Order (Nintendo NES, TOSE) 1st
Eggsplode & Short Order (Nintendo NES, TOSE) 2nd
Smash TV (Nintendo NES, Acclaim)
Snake Rattle N Roll (Nintendo NES, Rare) 1st
Snake Rattle N Roll (Nintendo NES, Rare) 2nd
Snakes Revenge (Nintendo NES, Ultra)
Spy vs. Spy (Nintendo NES, Kemco) Mad 1st
Spy vs. Spy (Nintendo NES, Kemco) Mad 2nd
Spy Hunter (Nintendo NES, SunSoft) 5-screw
Star Tropics II Zoda's Revenge (Nintendo NES) 1st
Star Tropics II Zoda's Revenge (Nintendo NES) 2nd
Star Wars (Nintendo NES, JVC)
Starship Hector (Nintendo NES, Hudson Soft)
Superman (Nintendo NES, Kemco) 1st
Superman (Nintendo NES, Kemco) 2nd
Swords and Serpents (Nintendo NES, Acclaim) 1st
Swords and Serpents (Nintendo NES, Acclaim) 2nd
Swords and Serpents (Nintendo NES, Acclaim) 3rd
Tag Team Wrestling (NES, Data East) 5-screw
TaleSpin (Nintendo NES, Capcom)
Teenage Mutant Ninja Turtles II The Arcade Game 1
Teenage Mutant Ninja Turtles II The Arcade Game 2
Teenage Mutant Ninja Turtles II The Arcade Game 3
Teenage Mutant Ninja Turtles II The Arcade Game 4
Teenage Mutant Ninja Turtles II The Arcade Game 5
Tiny Toon Adventures 2 Trouble in Wackyland (Konam
Werewolf (Nintendo NES, Data East)
Athletic World (Nintendo NES, Bandai)
Dig Dug II – Trouble in Paradise (NES, Bandai) 1st
The Goonies II (Nintendo NES, Konami)
Other NES game-list:
The Blues Brothers (Nintendo NES, Titus)
Castlevania (Nintendo NES, Konami)
Castlevania (Nintendo NES, Konami) -Torn Label
Castlevania II (Nintendo NES, Konami) 1st Copy
Castlevania II (Nintendo NES, Konami) 2nd Copy
Castlevania II (Nintendo NES, Konami) 3rd Copy
Contra (Nintendo NES, Konami)
Contra (Nintendo NES, Konami) 2nd Copy
Super C (Nintendo NES, Konami)
Godzilla (Nintendo NES, Toho)
Mega Man (Nintendo NES, Capcom)
Monster In My Pocket – (Nintendo NES, Konami) 1st
Monster In My Pocket – (Nintendo NES, Konami) 2nd
North and South (Nintendo NES, Kemco)
River City Ransom (Nintendo NES, Technos)
and:
8 Eyes (Nintendo NES, Taxan)
3-D World Runner (Nintendo NES, Acclaim)
Airwolf (Nintendo NES, Acclaim) 1st – Excellent
Airwolf (Nintendo NES, Acclaim) 2nd Copy
Airwolf (Nintendo NES, Acclaim) 3rd Copy
Al Unser Jr's TURBO RACING (NES, Data East) 1st
Al Unser Jr's TURBO RACING (NES, Data East) 2nd
Alpha Mission (Nintendo NES, SNK)
Amagon (Nintendo NES, Sammy)
Anticipation (Nintendo NES) 1st Copy
Anticipation (Nintendo NES) 2nd Copy
Anticipation (Nintendo NES) 3rd Copy
Back to the Future (Nintendo NES, LJN Games) 1st
Back to the Future (Nintendo NES, LJN Games) 2nd
Adventures of Bayou Billy (NES, Kanomi) 1st Copy
Adventures of Bayou Billy (NES, Kanomi) 2nd Copy
Bad Dudes (Nintendo NES, Data East) 1st Copy
Bad Dudes (Nintendo NES, Data East) 2nd Copy
Bad Dudes (Nintendo NES, Data East) 3rd Copy
Bandai Golf: Challenge Pebble Beach (Bandai) 1st
Bandai Golf: Challenge Pebble Beach (Bandai) 2nd
Bases Loaded & Bases Loaded II (Jaleco) 1st Set
Bases Loaded & Bases Loaded II (Jaleco) 2nd Set
Bases Loaded & Bases Loaded II (Jaleco) 3rd Set
Battle Chess (Nintendo NES, Data East)
Bill Elliott's NASCAR Challenge (NES, Konami)
Captain Skyhawk (Nintendo NES, Milton Bradley) 1st
Captain Skyhawk (Nintendo NES, Milton Bradley) 2nd
Captain Skyhawk (Nintendo NES, Milton Bradley) 3rd
Chessmaster (Nintendo NES, Hi-Tech)
Dash Galaxy in the Alien Asylum (NES, Data East)
Days of Thunder (Nintendo NES, Mindscape)
Days of Thunder (Nintendo NES, Mindscape) 2nd
Bill Elliott's NASCAR Challenge (NES, Konami) 2nd
BreakThru (Nintendo NES, Data East)
California Games (NES, Milton Bradley) 1st Copy
California Games (NES, Milton Bradley) 2nd Copy
California Games (NES, Milton Bradley) 3rd Copy
Cobra Triangle (Nintendo NES) 1st Copy
Cobra Triangle (Nintendo NES) 2nd Copy
Cobra Triangle (Nintendo NES) 3rd Copy
Deadly Towers (Nintendo NES, Broderbund) 1st Copy
Deadly Towers (Nintendo NES, Broderbund) 2nd Copy
Deadly Towers (Nintendo NES, Broderbund) 3rd Copy
Defender of the Crown (Nintendo NES, Ultra) 1st
Defender of the Crown (Nintendo NES, Ultra) 2nd
Double Dragon (Nintendo NES, Acclaim) 1st Copy
Double Dragon (Nintendo NES, Acclaim) 2nd Copy
Double Dribble (Nintendo NES, Konami) 1st Copy
Double Dribble (Nintendo NES, Konami) 2nd Copy
Double Dribble (Nintendo NES, Konami) 3rd Copy
Dragon Warrior (Nintendo NES) 1st Copy
Dragon Warrior (Nintendo NES) 2nd Copy
Dynowarz (Nintendo NES, Bandai) 1st Copy
Dynowarz (Nintendo NES, Bandai) 2nd Copy
Fester's Quest (Nintendo NES, Sun Soft) 1st Copy
Lee Trevino's Fighting Golf (Nintendo NES, SNK) 1s
Lee Trevino's Fighting Golf (Nintendo NES, SNK) 2n
Flying Dragon (Nintendo NES, Culture Brain) 1st
Flying Dragon (Nintendo NES, Culture Brain) 2nd
Play Action Football (Nintendo NES)
George Foreman's KO Boxing (Nintendo NES, Acclaim)
Goal! (Nintendo NES, Jaleco)
Golgo 13 Top Secret Episode (Nintendo NES, Tokai)
Gotcha! (Nintendo NES, LJN)
Heavy Shreddin' (Nintendo NES, Parker Brothers)
Hoops (Nintendo NES, Jaleco)
The Hunt For Red October (NES, Hi-Tech) 1st Copy
The Hunt For Red October (NES, Hi-Tech) 2nd
The Hunt For Red October (NES, Hi-Tech) 3rd
Ice Hockey (Nintendo NES) 1st
Ice Hockey (Nintendo NES) 2nd
Ice Hockey (Nintendo NES) 3rd
Ikari Warriors (Nintendo NES, SNK) 1st
Ikari Warriors (Nintendo NES, SNK) 2nd
Ikari Warriors II (Nintendo NES, SNK)
Infiltrator (Nintendo NES, Mindscape) 1st
Infiltrator (Nintendo NES, Mindscape) 2nd
Iron Sword – Wizards & Warriors II (Acclaim) 1st
Iron Sword – Wizards & Warriors II (Acclaim) 2nd
Iron Sword – Wizards & Warriors II (Acclaim) 3rd
Iron Tank (Nintendo NES, SNK) 1st
Iron Tank (Nintendo NES, SNK) 2nd
Iron Tank (Nintendo NES, SNK) 3rd
John Elway's Quarterback (NES, Tradewest) 1st
John Elway's Quarterback (NES, Tradewest) 2nd
John Elway's Quarterback (NES, Tradewest) 3rd
Jordan vs Bird One on One (NES, Milton Bradley) 1
Jordan vs Bird One on One (NES, Milton Bradley) 2
Jordan vs Bird One on One (NES, Milton Bradley) 3
Kings of the Beach (Nintendo NES, Ultra) 1st
Kings of the Beach (Nintendo NES, Ultra) 2nd
Kings of the Beach (Nintendo NES, Ultra) 3rd
Kung Fu Heros (Nintendo NES, Culture Brain)
Legacy of the Wizard (Nintendo NES, Broderbund) 1
Legacy of the Wizard (Nintendo NES, Broderbund) 2
Legacy of the Wizard (Nintendo NES, Broderbund) 3
The Legend of Kage (Nintendo NES)
Little Nemo The Dream Master (NES, Capcom)
The Little Mermaid (Nintendo NES, Capcom)
Low G Man (Nintendo NES, Taxan)
Major League Baseball (Nintendo NES, LJN) 1st
Major League Baseball (Nintendo NES, LJN) 2nd
Major League Baseball (Nintendo NES, LJN) 3rd
Magic Johnson's Fast Break (NES, Tradewest)
Metal Gear (Nintendo NES, Ultra)
Mickey Mousecapade (Nintendo NES, Capcom) 1st
Mickey Mousecapade (Nintendo NES, Capcom) 2nd
Mickey Mousecapade (Nintendo NES, Capcom) 3rd
Millipede (Nintendo NES, HAL Labs) 1st
Milon's Secret Castle (NES, Hudson Soft) 1st
Milon's Secret Castle (NES, Hudson Soft) 2nd
Milon's Secret Castle (NES, Hudson Soft) 3rd
Mission: Impossible (Nintendo NES, Ultra) 1st
Mission: Impossible (Nintendo NES, Ultra) 2nd
Mission: Impossible (Nintendo NES, Ultra) 3rd
Monopoly (Nintendo NES, Parker Brothers) 1st
Monopoly (Nintendo NES, Parker Brothers) 2nd
NARC (Nintendo NES, Acclaim) 1st
NARC (Nintendo NES, Acclaim) 2nd
NARC (Nintendo NES, Acclaim) 3rd
NFL (Nintendo NES, LJN)
Operation Wolf (Nintendo NES, Taito)
Orb 3D (Nintendo NES, Hi-Tech)
Othello (Nintendo NES, Acclaim) 1st
Othello (Nintendo NES, Acclaim) 2nd
Othello (Nintendo NES, Acclaim) 3rd
Pictionary (Nintendo NES, LJN)
Pin-Bot (Nintendo NES, Rare) 1st
Pin-Bot (Nintendo NES, Rare) 2nd
Platoon (Nintendo NES, SunSoft) 1st
Platoon (Nintendo NES, SunSoft) 2nd
Platoon (Nintendo NES, SunSoft) 3rd
P.O.W. Prisoners of War (Nintendo NES, SNK)
R.C. Pro-Am (Nintendo NES, Rare) 1st
R.C. Pro-Am (Nintendo NES, Rare) 2nd
R.C. Pro-Am (Nintendo NES, Rare) 3rd
Rambo (Nintendo NES, Acclaim)
RBI (Nintendo NES, Tengen – Black Cart) 1st
RBI (Nintendo NES, Tengen – Black Cart) 2nd
RBI (Nintendo NES, Tengen – Black Cart) 3rd
RBI 2 (Nintendo NES, Tengen – Black Cart) 1st
RBI 2 (Nintendo NES, Tengen – Black Cart) 2nd
RBI 2 (Nintendo NES, Tengen – Black Cart) 3rd
RBI 3 (Nintendo NES, Tengen – Black Cart)
Renegade (Nintendo NES, Taito)
Rescue The Embassy Mission (Nintendo NES, Kemco) 1
Rescue The Embassy Mission (Nintendo NES, Kemco) 2
Rescue The Embassy Mission (Nintendo NES, Kemco) 3
Ring King (Nintendo NES, Data East) 1st
Ring King (Nintendo NES, Data East) 2nd
Road Blasters (Nintendo NES, Mindscape)
RoboCop (Nintendo NES, Data East) 1st
RoboCop (Nintendo NES, Data East) 2nd
RoboCop (Nintendo NES, Data East) 3rd
Robo Warrior (Nintendo NES, Jaleco)
Rocket Ranger (Nintendo NES, Kemco)
Roger Rabbit (Nintendo NES, LJN) 1st
Roger Rabbit (Nintendo NES, LJN) 2nd
Roger Rabbit (Nintendo NES, LJN) 3rd
Rush N Attack (Nintendo NES, Konami)
Rush N Attack (Nintendo NES, Konami) 5-screws
Seicross (Nintendo NES, FCI, Inc) 1st
Seicross (Nintendo NES, FCI, Inc) 2nd
Sesame Street 123 (Nintendo NES, Hi-Tech) 1st
Sesame Street 123 (Nintendo NES, Hi-Tech) 2nd
Sesame Street 123 (Nintendo NES, Hi-Tech) 3rd
Sesame Street ABC (Nintendo NES, Hi-Tech) 1st
Sesame Street ABC (Nintendo NES, Hi-Tech) 2nd
Sesame Street ABC (Nintendo NES, Hi-Tech) 3rd
Shadowgate (Nintendo NES, Kemco)
Shigen The Ruler (Nintendo NES, Hot-B)
Side Pocket (Nintendo NES, Data East)
Silent Service (Nintendo NES, Ultra) 1st
Silent Service (Nintendo NES, Ultra) 2nd
Silent Service (Nintendo NES, Ultra) 3rd
Skate or Die (Nintendo NES, Ultra) 1st
Skate or Die (Nintendo NES, Ultra) 2nd
Skate or Die (Nintendo NES, Ultra) 3rd
Skate or Die 2 (Nintendo NES, Ultra) 1st
Skate or Die 2 (Nintendo NES, Ultra) 2nd
Ski or Die (Nintendo NES, Ultra)
Sky Shark (Nintendo NES, Taito) 1st
Sky Shark (Nintendo NES, Taito) 2nd
Sky Shark (Nintendo NES, Taito) 3rd
Solar Jetman (Nintendo NES, Tradewest) 1st
Solar Jetman (Nintendo NES, Tradewest) 2nd
Solar Jetman (Nintendo NES, Tradewest) 3rd
Solstice (Nintendo NES, Sony Imagesoft) 1st
Solstice (Nintendo NES, Sony Imagesoft) 2nd
Solstice (Nintendo NES, Sony Imagesoft) 3rd
Spy Hunter (Nintendo NES, SunSoft) 1st
Spy Hunter (Nintendo NES, SunSoft) 2nd
Spy Hunter (Nintendo NES, SunSoft) 3rd
Star Force (Nintendo NES, Tecmo) 1st
Star Force (Nintendo NES, Tecmo) 2nd
Star Force (Nintendo NES, Tecmo) 3rd
Star Tropics (Nintendo NES) 1st
Star Tropics (Nintendo NES) 2nd
Star Tropics (Nintendo NES) 3rd
Star Voyager (Nintendo NES, Acclaim) 1st
Star Voyager (Nintendo NES, Acclaim) 2nd
Star Voyager (Nintendo NES, Acclaim) 3rd
Stealth (Nintendo NES, Activision)
Strider (Nintendo NES, Capcom) 1st
Strider (Nintendo NES, Capcom) 2nd
Strider (Nintendo NES, Capcom) 3rd
Super Glove Ball (Nintendo NES, Mattel)
Super Team Games (Nintendo NES)
Super Spike V Ball (Nintendo NES, Technos)
Taboo The Sixth Sense (Nintendo NES, Tradewest)
Tag Team Wrestling (Nintendo NES, Data East) 1st
Tag Team Wrestling (Nintendo NES, Data East) 2nd
Tiger-Heli (Nintendo NES, Acclaim) 1st
Tiger-Heli (Nintendo NES, Acclaim) 2nd
Tiger-Heli (Nintendo NES, Acclaim) 3rd
To The Earth (Nintendo NES)
Top Gun (Nintendo NES, Konami) 1st
Top Gun (Nintendo NES, Konami) 2nd
Top Gun (Nintendo NES, Konami) 3rd
Top Gun Second Mission (Nintendo NES, Konami) 1st
Top Gun Second Mission (Nintendo NES, Konami) 2nd
Top Gun Second Mission (Nintendo NES, Konami) 3rd
Track and Field II (Nintendo NES, Konami)
Win, Lose or Draw (Nintendo NES, Hi-Tech) 1st
Win, Lose or Draw (Nintendo NES, Hi-Tech) 2nd
Winter Games (Nintendo NES, Acclaim)
Winter Games (Nintendo NES, Acclaim) 5-screw
Wizards and Warriors (Nintendo NES, Acclaim) 1st
Wizards and Warriors (Nintendo NES, Acclaim) 2nd
Wizards and Warriors (Nintendo NES, Acclaim) 3rd
Nintendo World Cup (Nintendo NES) 1st
Nintendo World Cup (Nintendo NES) 2nd
Wrath of the Black Manta (Nintendo NES, Taito) 1st
Wrath of the Black Manta (Nintendo NES, Taito) 2nd
WWF Wrestlemania (Nintendo NES, Acclaim) 1st
WWF Wrestlemania (Nintendo NES, Acclaim) 2nd
WWF Wrestlemania (Nintendo NES, Acclaim) 3rd
WWF Wrestlemania Challenge (Nintendo NES, LJN)
Xenophobe (Nintendo NES, SunSoft)
Xevious (Nintendo NES, Bandai) 1st
Xevious (Nintendo NES, Bandai) 2nd
Xevious (Nintendo NES, Bandai) 3rd
Astyanax (Nintendo NES, Jaleco)
Millipede (Nintendo NES, HAL Labs) 2th
Pin-Bot (Nintendo NES, Rare) 3rd
Hylide (Nintendo NES, FCI) 1st
Hylide (Nintendo NES, FCI) 2nd
The Karate Kid (Nintendo NES, LJN)