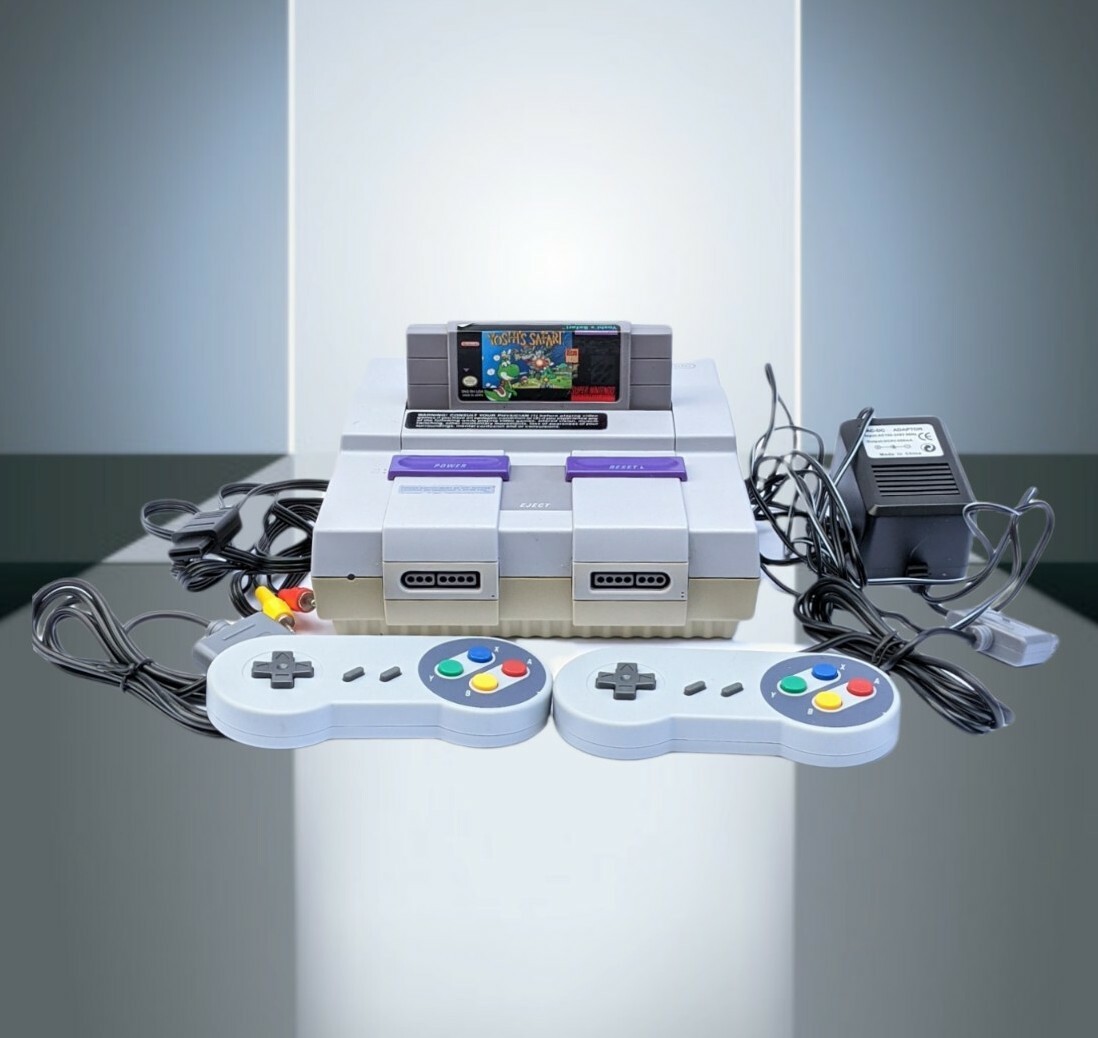 Price: 120.00 USD
Classic Nintendo Game:
Authentic Super Nintendo Console with 2 Controllers Yoshi's Safari Game Tested
*Authentic Super Nintendo Console tested and works great!!!! Hole in the bottom of the console, does not affect functioning game play!
*2 New aftermarket Controllers
*New aftermarket AX cable
*New aftermarket power cord
*Yoshi's Safari Game
Thanks so much for considering the purchase of this item, I truly appreciate you taking the time to look.
Please remember all items are sold as is, so please make sure to look at all the images and read the description prior to bidding or purchasing.  Make sure to ask any additional questions you might have as well.  Photograph colors can vary from the original item, I try to get great light to photograph in, but zooming in and out still will cause some variances of the color in photos.
I am happy to bundle items and combine shipping.
We use various shipping services through USPS, and when the item requires we will also use other shipping companies. (FedEx, UPS)  Shipping includes a handling fee to cover the cost of shipping beyond just the cost of postage.  Those things needed to package and get your product to you, Tape, printer ink, shipping materials, labels, and gas. 
Shipping services in my area, including USPS are closed on both Saturday and Sunday.
We are environmentally green conscious and reuse shipping supplies including boxes, padded envelopes etc when we can.
Please understand the need to be green.
Our general policy is every item sold is sold as is and do not offer returns.  Please take note of any flaws listed, overall condition, measurements and photos that are available to you.  Unless specified you are purchasing pre-owned items and there will usually be signs of normal wear and washing.  Make sure to ask any questions that you might have before bidding or purchasing an item.  Excellent or otherwise condition is subjective, so again please check description, photos, and entire listing.
If by chance we do miss a flaw in the description, it does happen.  Please contact us and we would be happy to find a suitable resolution.
Thanks so much!
*Justice For Antonio Neill*