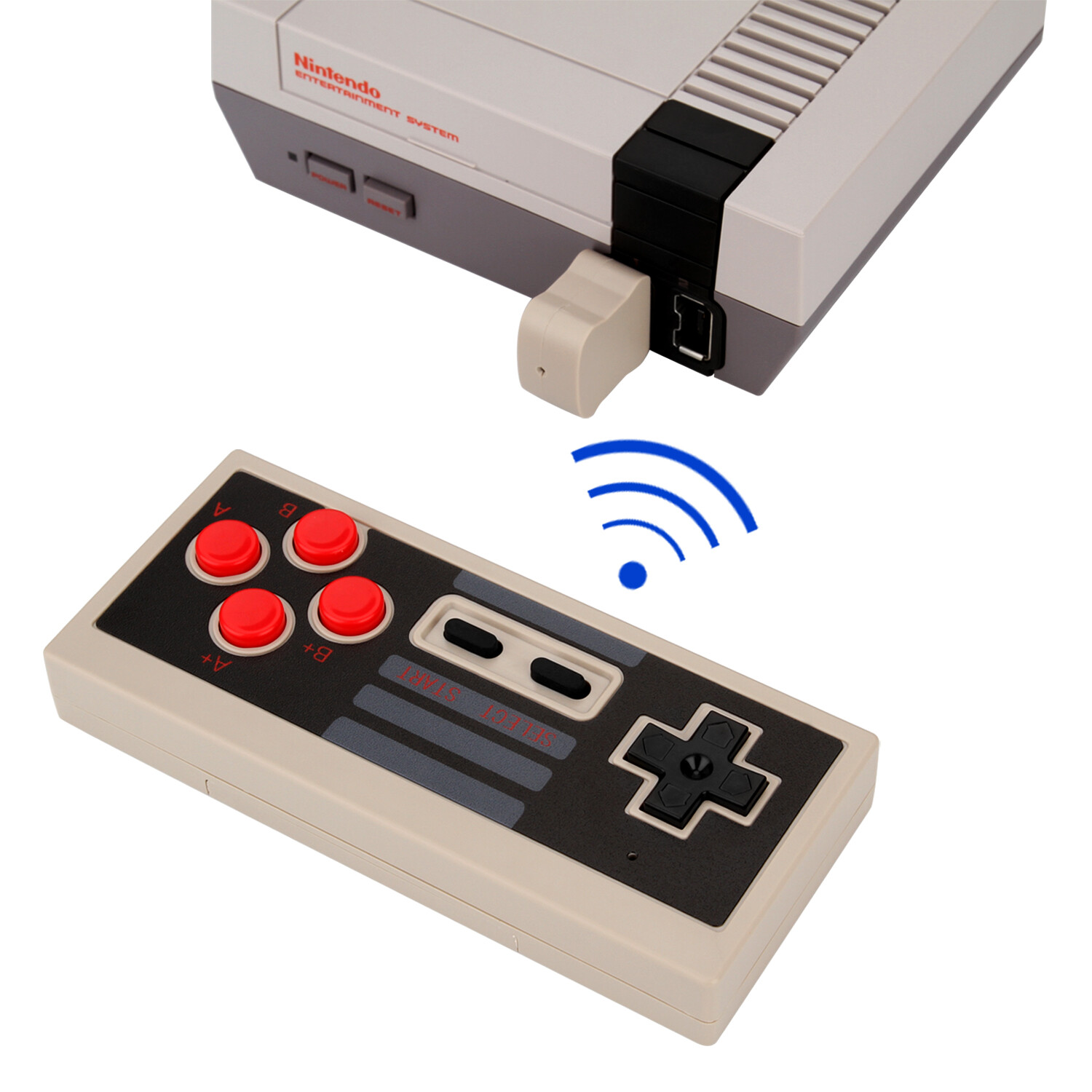 Price: 23.99 USD
Classic Nintendo Game:
2.4G Wireless Gamepad Controller For NES Mini Classic Edition Nintendo Console
Wired/Wireless Game Controller, 2.4 G Wireless Gaming Controller for Nintendo NES Mini Classic Edition, Wireless Joypad with Receiver for Classic Gaming System
Wireless Controller Description:
LONG DISTANCE CONNECTION: The connection mode of the wireless game controller is 2.4G and the longest distance connection is up to 8 meters, which is long enough for you to play wherever you want.
MAKE YOUR GAMES MORE FUN: There are two extra function keys A+ and B + designed in this kind of wireless game controller, then you can fire continuously in a shooting game, thus, enhancing the shooting game experience.
CABLE-FREE DESIGN: Compared to those cable gamepads, this wireless game controller will make you feel free to play games at any place within wireless connection range. Hence, we don't need to think about the trouble of wires winding together.
KEEP THE SAME OLD STYLE: Considering the games you are playing will bring back those good memories of childhood, so we decide to continue to keep the original style without changing the classic one, making your spare time life filled with joyfulness and happiness.
100% CUSTOMER SATISFACTION: It comes with one-year warranty guarantee and friendly customer service. If you are not totally satisfied with our products, you feel free to contact us for a refund or other resolutions.
TROUBLE-FREE WIRES WINDING:
With this fantastic wireless technology of games controller, it won't bother you with those cables or wires winding issues any more. In addition, it won't influence children's vision in the course of playing games either, due to previous situation of short handle wires.
EXTRA GAME FUNCTIONS:
You can see that in this gamepad we are adding two additional functional keys, A+ button is designed to be made a continuous jumping operation and B+ button is used for a consecutive shooting function. Therefore, you will have much more fun when enjoying playing games.
CLASSIC STYLE DESIGN:
Without changing the classic style of the joypads and continuously remaining the original one, it can bring back those good and happy memories of your childhood while playing games with your old friends.
Wireless Controller Feature:
Long Distance Connection
Extra Game Function
Cable-Free Design
Keep the Same Old Style
Wireless Controller Specification:
Device Type: Controllers For Nintendo NES Mini Edition
Color: Gray
Material: ABS Plastic
Connection Mode: 2.4G
Long Distance Connection: Up to 8 Meters
Wired Specification:
Device Type: Controllers For Nintendo NES Mini Classic Edition
Keys: D-Pad, START, SELECT, A, B
Cable Length: 5.9Ft(180CM)
Weight: 92g
Dimension : 4.8*2.11*0.77 Inch
Wired Controller Features:
• Specifically designed for Nintendo Entertainment System: NES mini Classic Edition (2016 NEW Release).
• The NES Classic Controller brings authentic retro gaming to your fingertips.
• It can also be plugged into a Wii Remote controller, so you can also use it with Virtual Console NES games on your Wii or Wii U console..
• Plug and Play, no extra drivers needed.
• Super sensitive buttons for precision control.
• All buttons can be configured.
• Cable Length: 5.9Ft(180CM)
Package Included:
1pcs / 2pcs x Wired/ Wireless Game Controller For Nintendo NES Mini Classic Edition Console
!!!Controller ONLY, the Nintendo NES Mini Classic Edition Console is NOT included.